I have always had a spe­cial place in my heart for Win­nie the Pooh since I was a lit­tle girl. My affec­tion for this bear and his friends con­tin­ued to grow as I did, and so did my affin­ity for bees! When my fam­ily and I found out a new Win­nie the Pooh movie was being released this month, we threw a lit­tle party to commemorate!
The food offer­ings all rep­re­sented some form of honey ("hunny") items and included hon­ey­comb cereal, honey gra­ham s'mores on a stick, teddy gra­ham cook­ies, honey roasted peanuts, honey candy, honey but­ter­scotch pop­corn (with movie tick­ets) and finally, honey vanilla cup­cakes with cus­tom fon­dant top­pers. I added a small flag bunting in the front with the words "Silly Old Bear".
For the top­per design, I cre­ated Win­nie the Pooh dressed up as a bee and since a premise of the movie includes the char­ac­ters search­ing for tails, I decided to ref­er­ence them with their ears and tails!
The favors were placed on a small kids table adorned with flow­ers in a honey pot and offer­ing honey bears and pots, while the pic­nic bas­ket car­ried some dec­o­ra­tive plush ani­mals and Win­nie the Pooh col­or­ing books. Also on the table were paper mache books with a cus­tom cover, inside which included crayons for the children.
Some addi­tional dec­o­ra­tions included a turned over crate dis­play­ing Win­nie the Pooh items and a framed quote.
Hip, hip, hooray! A fun time was had by all in our re-creation of Pooh Cor­ner! We're really excited to see the new film and hope to hear more of Pooh Bear's wis­dom, such as this lit­tle heart-warming quote:
"If there ever comes a day when we can't be together, keep me in your heart, I'll stay there for­ever." ~Win­nie the Pooh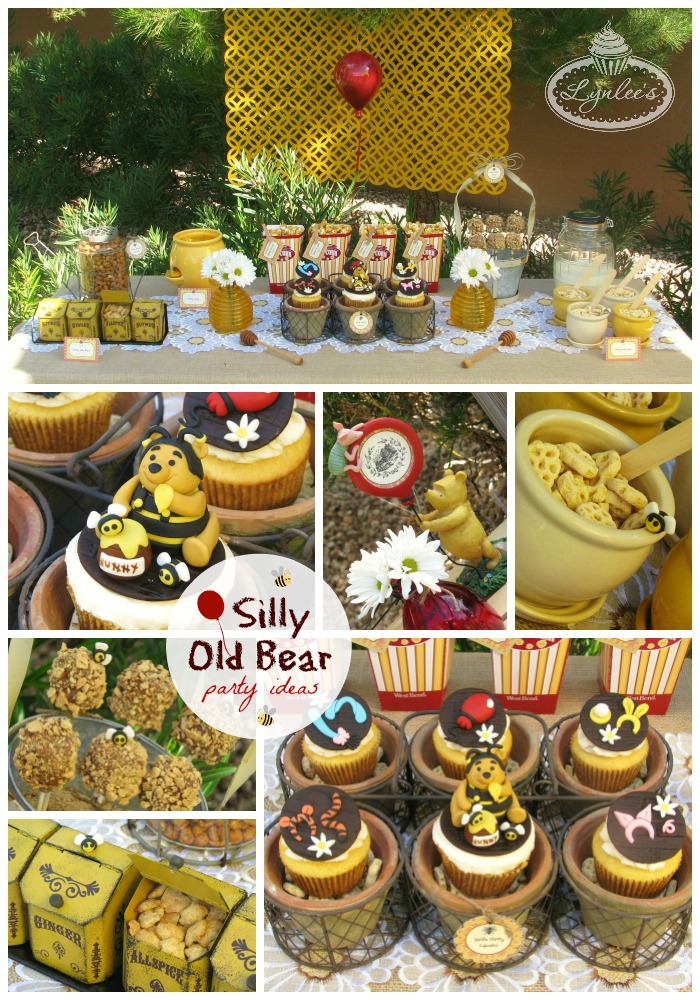 Merci Beau­coup!

This page may con­tain affil­i­ate links. For more infor­ma­tion, please read my 
Terms

&

Dis­clo­sure
 policy.