I have always had a special place in my heart for Winnie the Pooh since I was a little girl. My affection for this bear and his friends continued to grow as I did, and so did my affinity for bees! When my family and I found out a new Winnie the Pooh movie was being released this month, we threw a little party to commemorate!
The food offerings all represented some form of honey ("hunny") items and included honeycomb cereal, honey graham s'mores on a stick, teddy graham cookies, honey roasted peanuts, honey candy, honey butterscotch popcorn (with movie tickets) and finally, honey vanilla cupcakes with custom fondant toppers. I added a small flag bunting in the front with the words "Silly Old Bear".
For the topper design, I created Winnie the Pooh dressed up as a bee and since a premise of the movie includes the characters searching for tails, I decided to reference them with their ears and tails!
The favors were placed on a small kids table adorned with flowers in a honey pot and offering honey bears and pots, while the picnic basket carried some decorative plush animals and Winnie the Pooh coloring books. Also on the table were paper mache books with a custom cover, inside which included crayons for the children.
Some additional decorations included a turned over crate displaying Winnie the Pooh items and a framed quote.
Hip, hip, hooray! A fun time was had by all in our re-creation of Pooh Corner! We're really excited to see the new film and hope to hear more of Pooh Bear's wisdom, such as this little heart-warming quote:
"If there ever comes a day when we can't be together, keep me in your heart, I'll stay there forever." ~Winnie the Pooh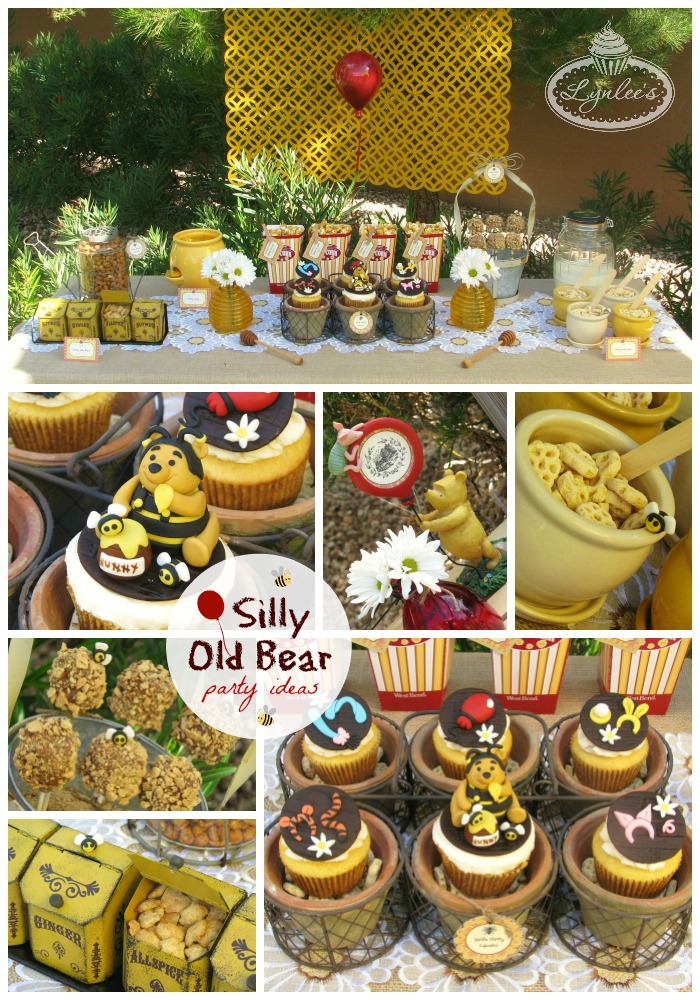 Merci Beaucoup!

This page may contain affiliate links. For more information, please read my
Terms & Disclosure
policy.