As the release date neared, I was thrilled to announce the details of the book tour sched­ule for Sweet & Unique Cup­cake Top­pers! I teamed up with sev­eral of my sweet friends and fab­u­lous fel­low authors Mindy Cone of Cre­ative Juice, Kris Gali­cia Brown of KCre­ative Cake Pops and Glory Albin of Glo­ri­ous Treats for some sign­ing engage­ments through­out the U.S. for the SWEET BOOK TOUR. Be sure to scroll down to check out all the details and some pic­tures of the events!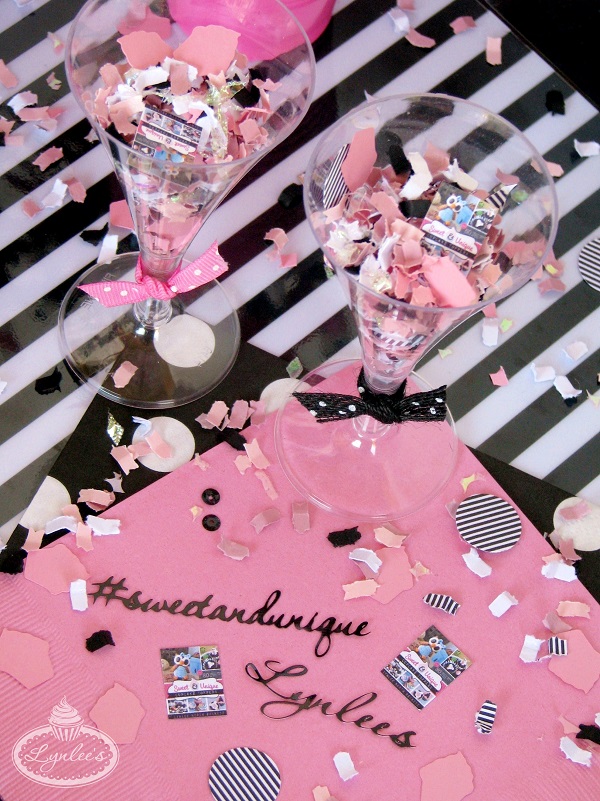 To kick off the offi­cial release of the book, we held a launch party at Sweet House Cake Sup­plies & Bak­ery locally in Las Vegas, who not only so gra­ciously hosted our event, but pro­vided THE most scrump­tious cup­cakes with edi­ble images of the book cover!  And how amaz­ing is this cus­tomized con­fetti from The Con­fetti Bar?! I car­ried that con­fetti to every book tour stop because I was obsessed with it!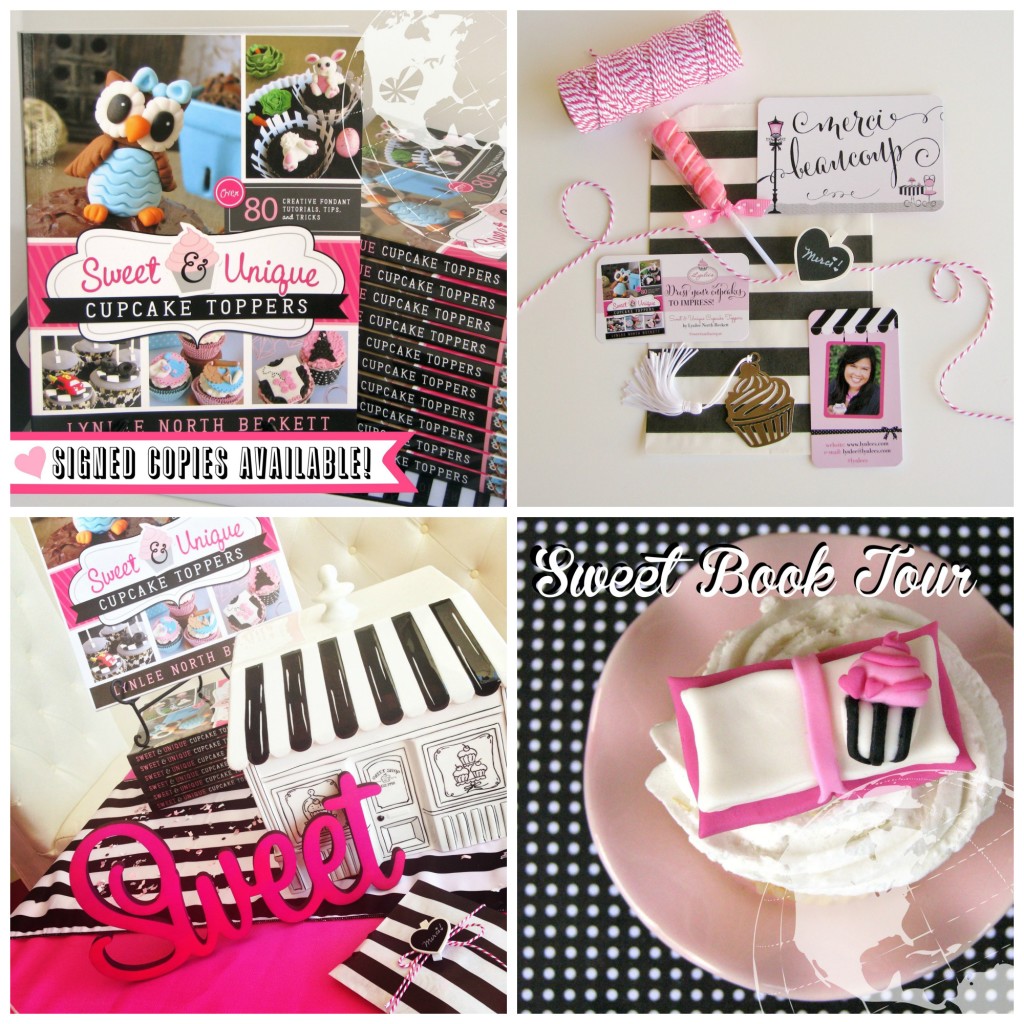 Prepa­ra­tion for the Sweet Book Tour required the help of many sweet friends! Michele of Brave Cre­ative Design designed some fab­u­lous new busi­ness and thank you cards for me, while Do at Piggy Bank Par­ties made all my dreams come true in deliv­er­ing the most adorable apron-shaped busi­ness card hold­ers match­ing back to my logo and brand! Jeanette from Candy Crush Shop pro­vided the per­fect table­cloth and black and white striped run­ner, which paired up nicely with the charm­ing cus­tomized Sweet sign from Ten23 Designs!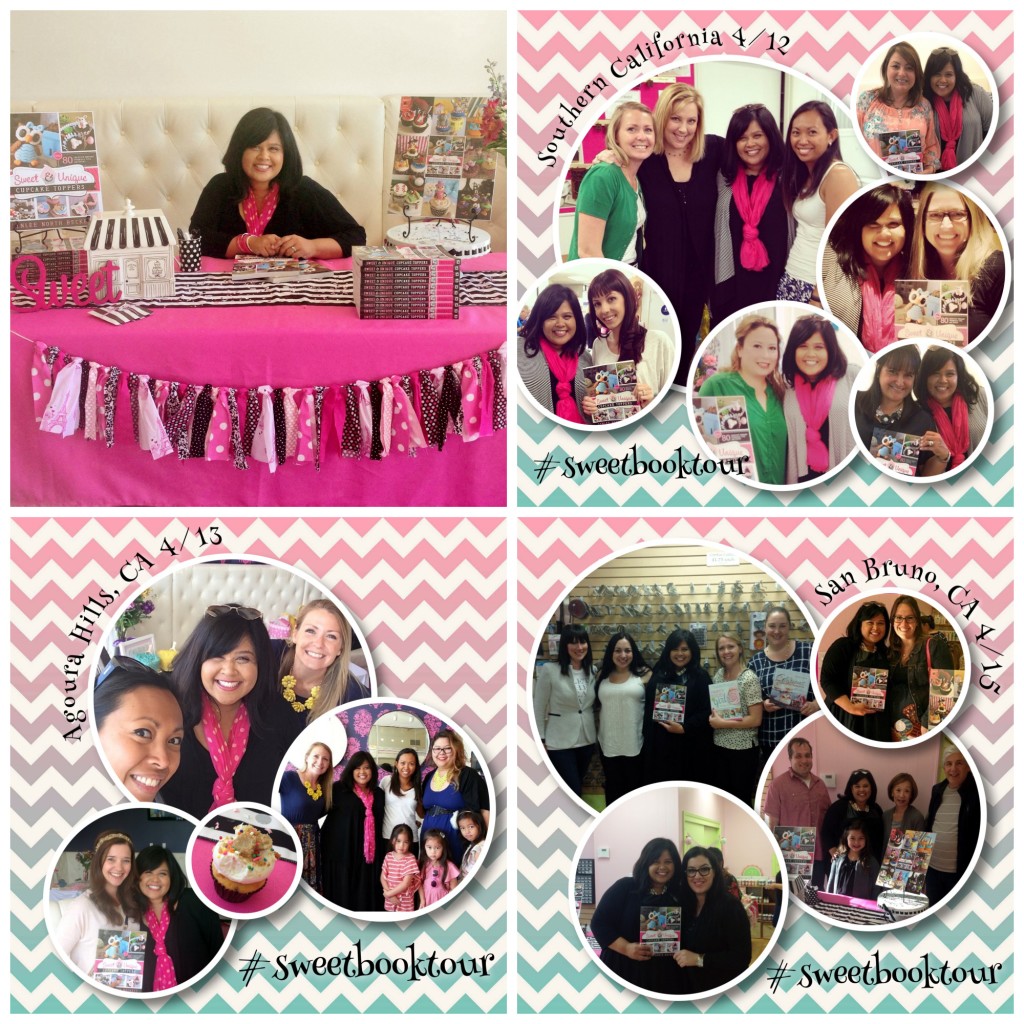 Our next stop was in South­ern Cal­i­for­nia, where I joined up with Mindy and Kris for some sweet fun! We began at Do it with Icing in San Diego, then headed to two dif­fer­ent Sweet XO loca­tions in Los Ange­les and had a super fun time with our So Cal friends! Later that week, Mindy and I trav­eled north, where we were joined by Glory in the Bay Area at Busy Bak­ers and had a fab­u­lous evening!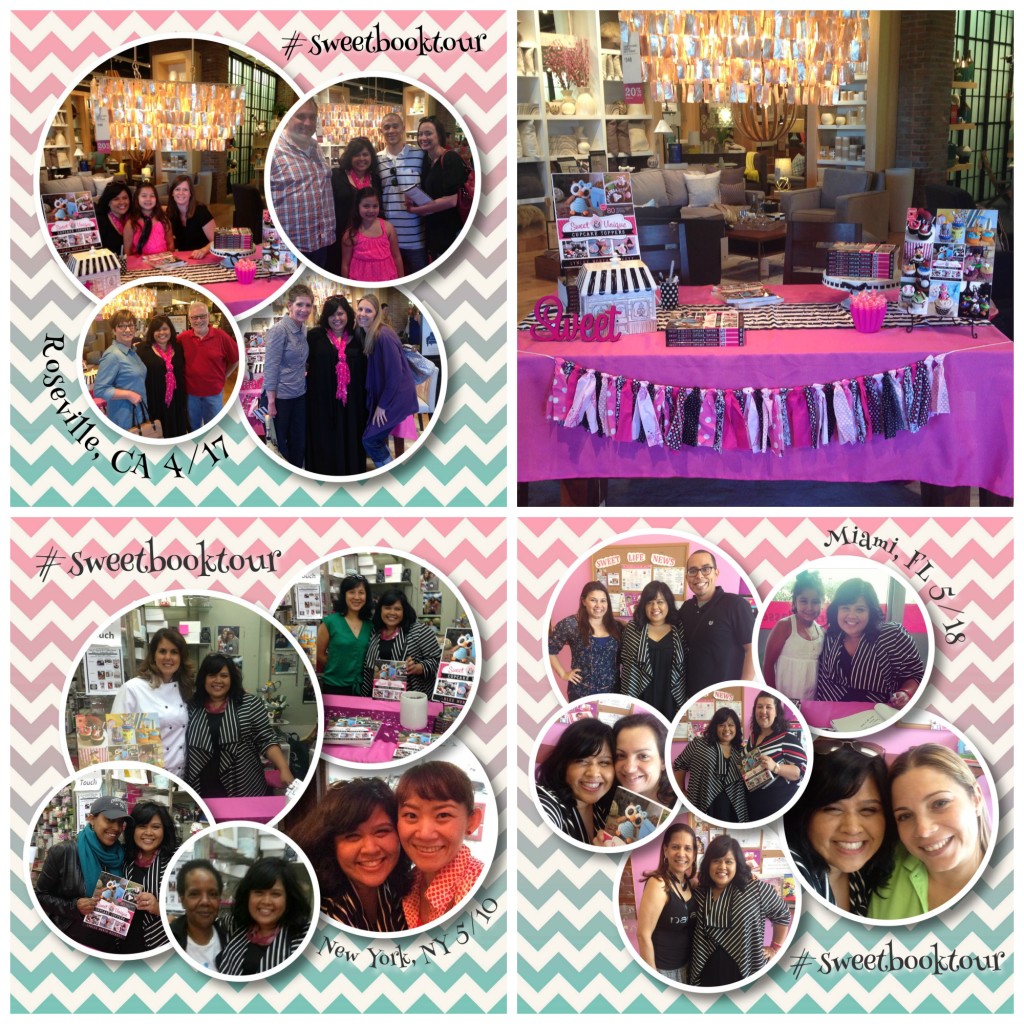 Mindy, Glory and I headed to the Sacra­mento area next where West Elm Roseville was so gra­cious to host a book sign­ing event for all of us! This was an espe­cially mem­o­rable event for me, as I went to Jr. High and High School in Roseville and had lots of friends and fam­ily attend!
I headed to the East Coast on my own, hit­ting NYC for my first stop at NY Cake, where I met vis­ited with fam­ily and friends, as well as mak­ing new ones! And finally, after I attended the BlogHer Food con­fer­ence in Miami, I made my final stop at Sweet Life Cake and Candy Sup­ply, which was the per­fect end to the book tour!
I can­not thank every­one enough, from those who came out to sup­port me to the amaz­ing and gra­cious hosts at every stop to my fel­low authors! It was both an incred­i­bly inspir­ing and hum­bling expe­ri­ence for which I will be for­ever grateful. ♥
Merci Beau­coup!

This page may con­tain affil­i­ate links. For more infor­ma­tion, please read my 
Terms

&

Dis­clo­sure
 policy.