This post is spon­sored by Oriental Trading Company, but as always, all ideas and opin­ions are my own!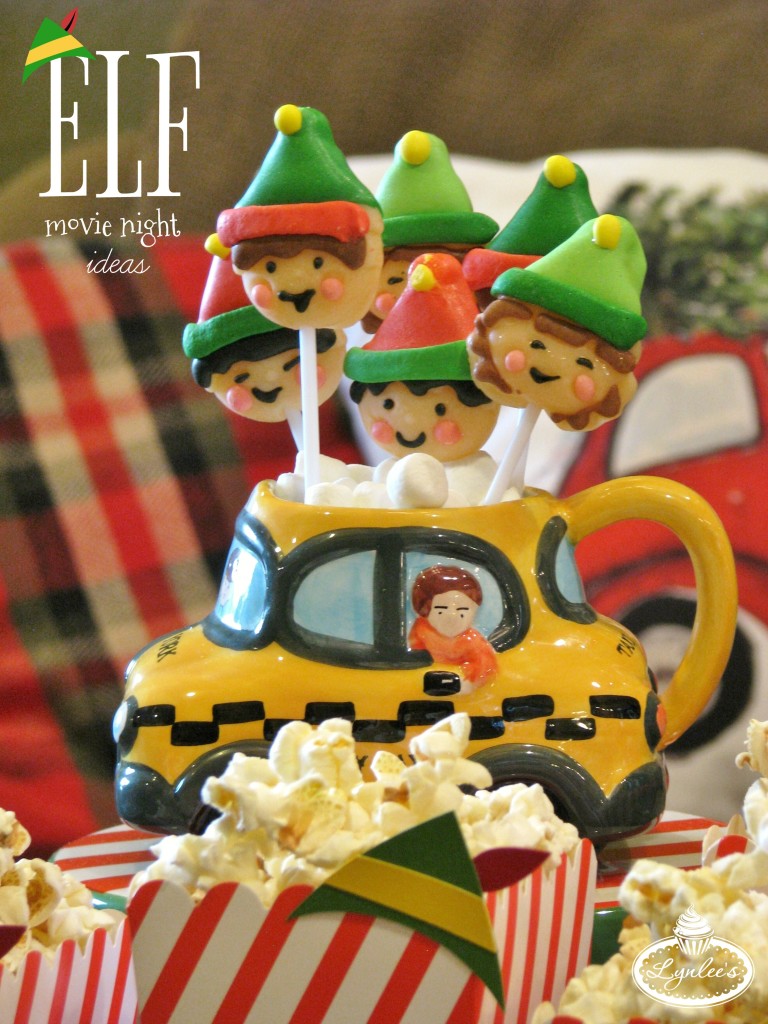 The holiday season is officially upon us, which for many means it's time to break out the decorations and the family traditions! The weeks and days leading up to Christmas are my absolute favorite, from decking our humble halls to blasting festive music in the car to watching classic holiday movies with the family! I've loved introducing my daughter, Anabelle, to both the time-honored films, as well as the newer ones that have become new yearly standards in our household. One of the movies that falls into the latter category that has also become a preferred choice 'round these parts is without a doubt the movie, Elf! So I decided to kick off our Christmas with a family movie night elf party!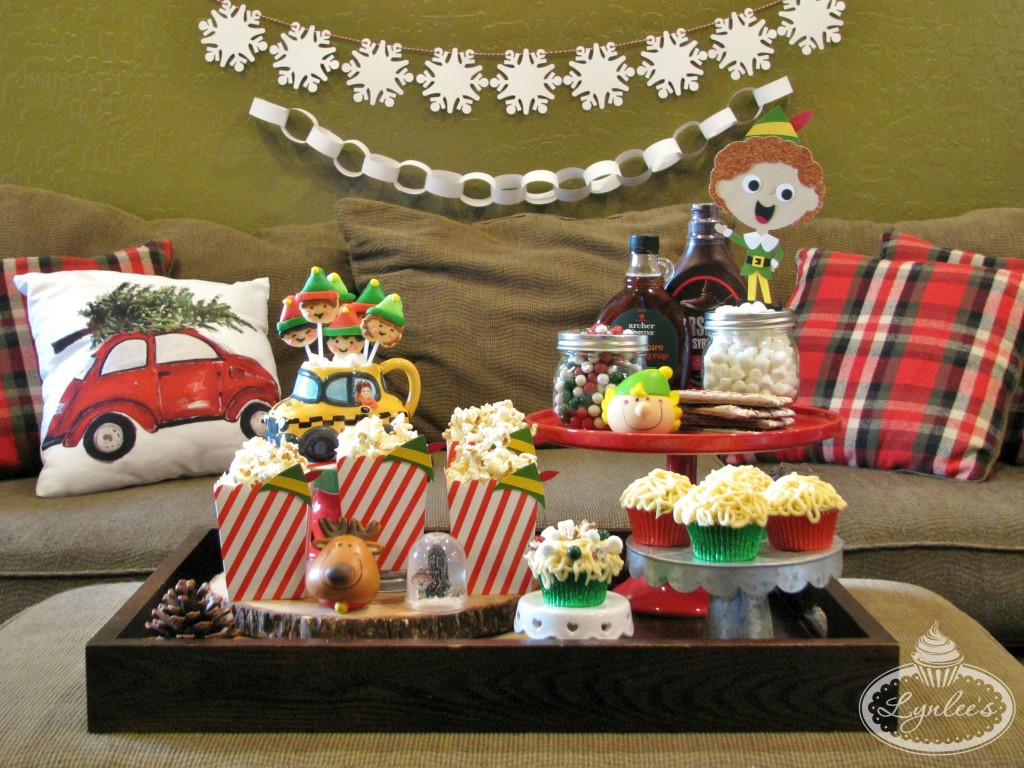 I couldn't resist all the fun and festive items I found at Oriental Trading Company's Christmas Store, which led me to partner with them to put this little party together! Instead of styling a food table, I decided to include all the decor and goodies in the living room itself since we would be spending all of our time on the couch watching the movie. Why make it more difficult, especially if anyone wanted seconds?! As far as the menu went, I kept it simple with something salty, something sweet and just a little something to drink!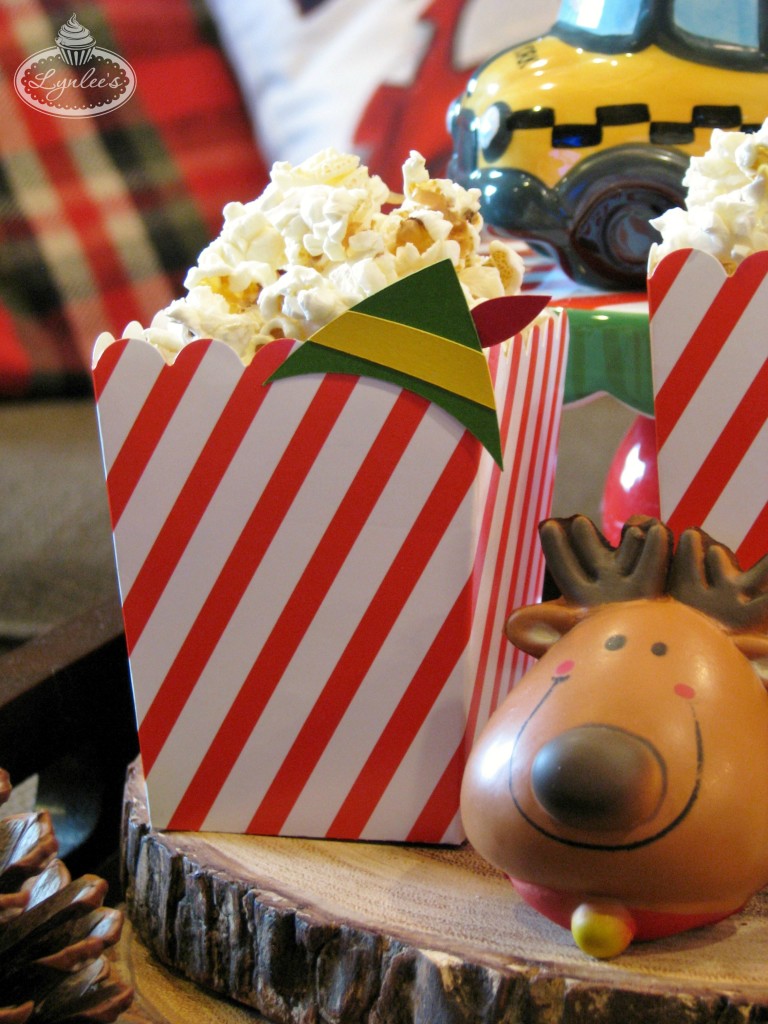 First off, I think it's practically illegal to watch a movie without popcorn, right?! So I found these adorable mini red and white striped popcorn boxes that worked perfectly to pass around to everyone. I embellished them with elf hats for just a little added touch. The use of popcorn boxes is a super simple way to add color to your decorations and makes it so much easier to pass out to your guests! I also used these precious holiday character stress toys, including reindeer, Santas and elves, to spruce up my display and double as favors.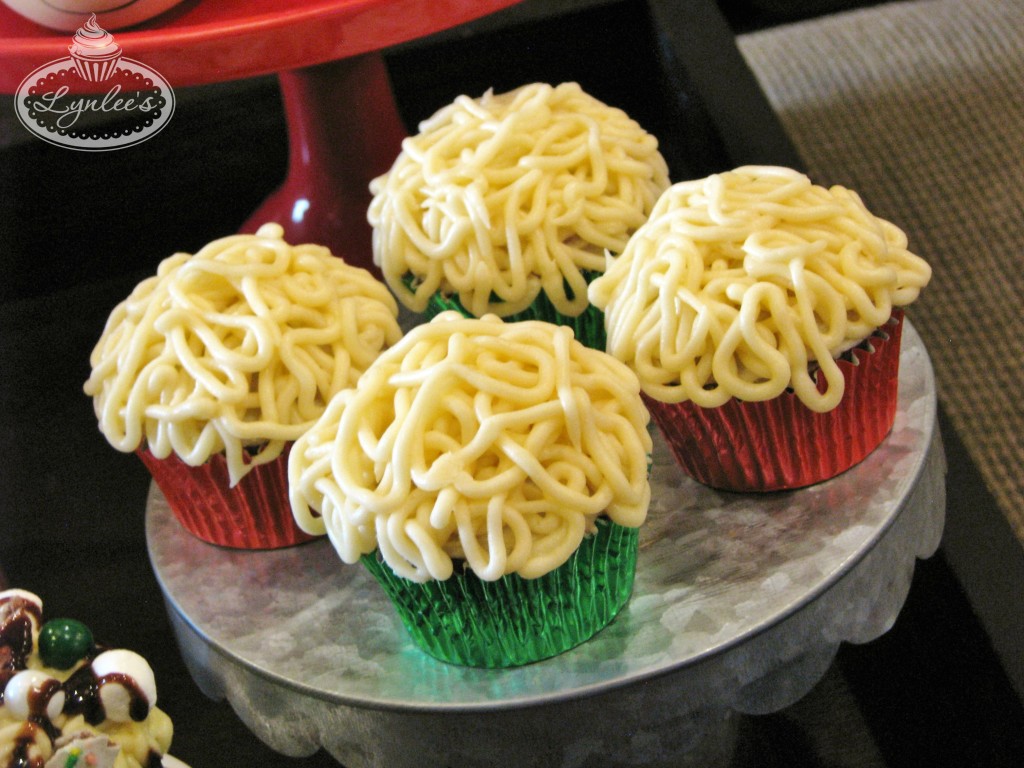 You can't host an elf party without the elves' favorite food: sweets and candy! After all, Buddy the elf claimed that the "elves try to stick to four main food groups: candy, candy canes, candy corns and syrup!". One of Buddy's favorite dishes to serve is spaghetti with syrup and a variety of sweets drizzled on top, so that's exactly what we had to have. As appetizing as it all sounds, I thought it would be fun to translate it into a cupcake with a DIY toppings bar! I went ahead and frosted the cupcakes ahead of time to look like spaghetti noodles. I simply tinted the frosting with some ivory soft gel paste (or you can also use just a bit of yellow food coloring) and covered the surface of the cupcake with the use of a small spatula. Then, I used a small round tip to pipe the noodles over each cupcake in a haphazard manner, just making sure I was covering the cupcake.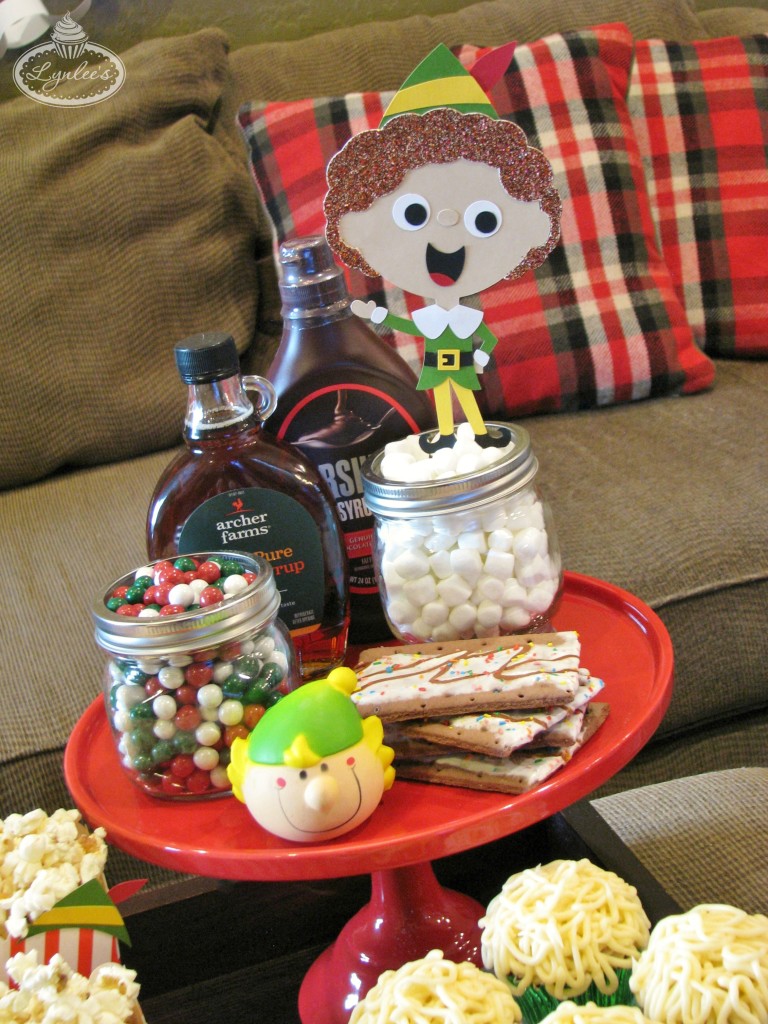 For the toppings bar, I offered most of the items Buddy himself put on his own bowl of spaghetti! I picked Christmas chocolate candy in red, green and white, then supplemented it with mini marshmallows, chocolate and maple syrup and Pop Tarts to break up and drizzle over the spaghetti cupcakes. Adding the toppings allows the guests to customize their own cupcakes and provides an additional activity during the party!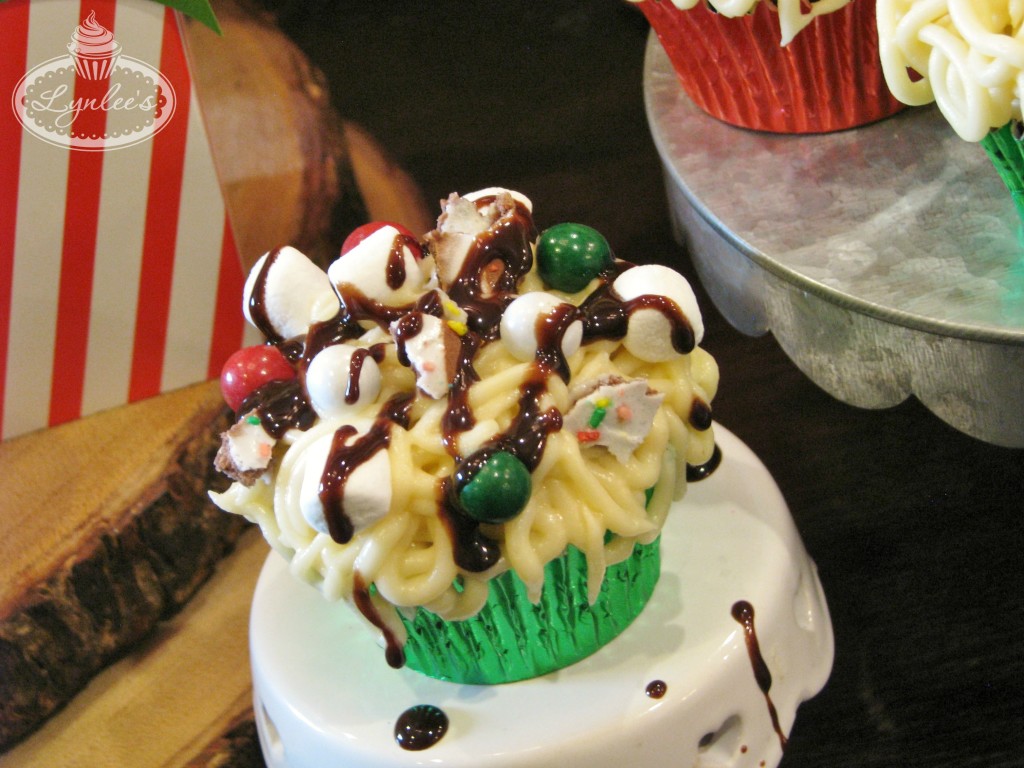 As you can see, it can get a little messy assembling the cupcakes, so don't forget to have some plates on hand to catch the excess that falls off, like these cute elf dessert plates!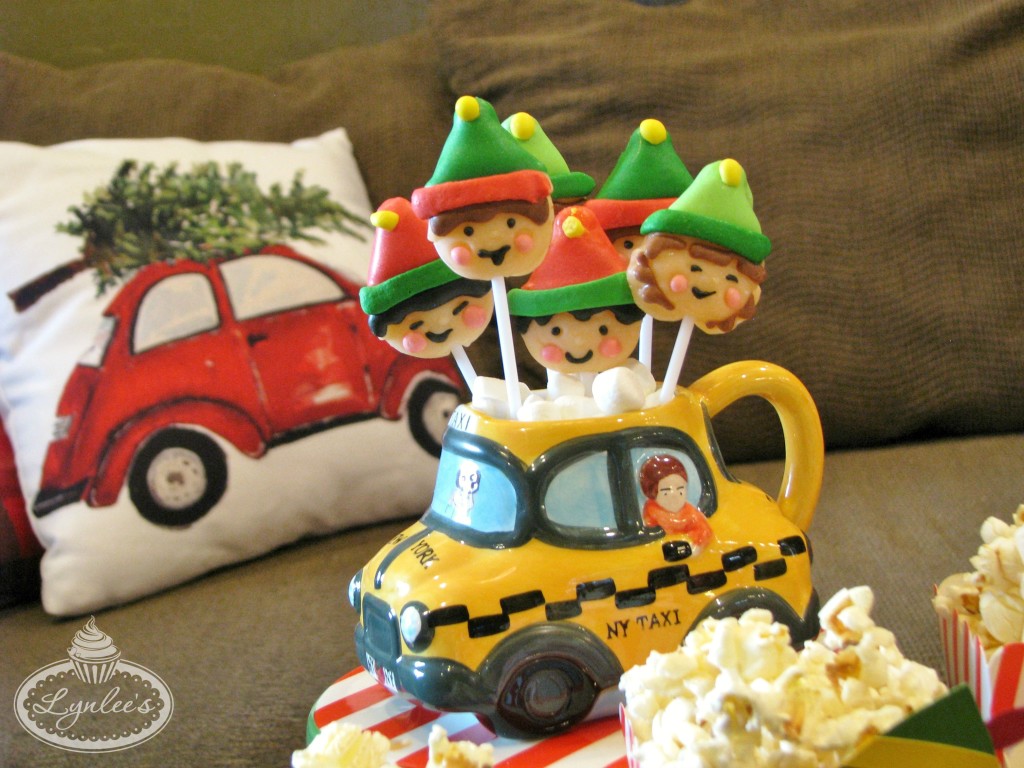 When browsing through Oriental Trading's vast array of Christmas offerings, I came upon these precious elves character lollipops and just HAD to have them! Look at their sweet faces… literally! Lol! I had a taxi mug I had bought years ago on a trip to NYC, so I stuffed the inside with foam, inserted the lollipops and filled the rest up with mini marshmallows… or mini snowballs!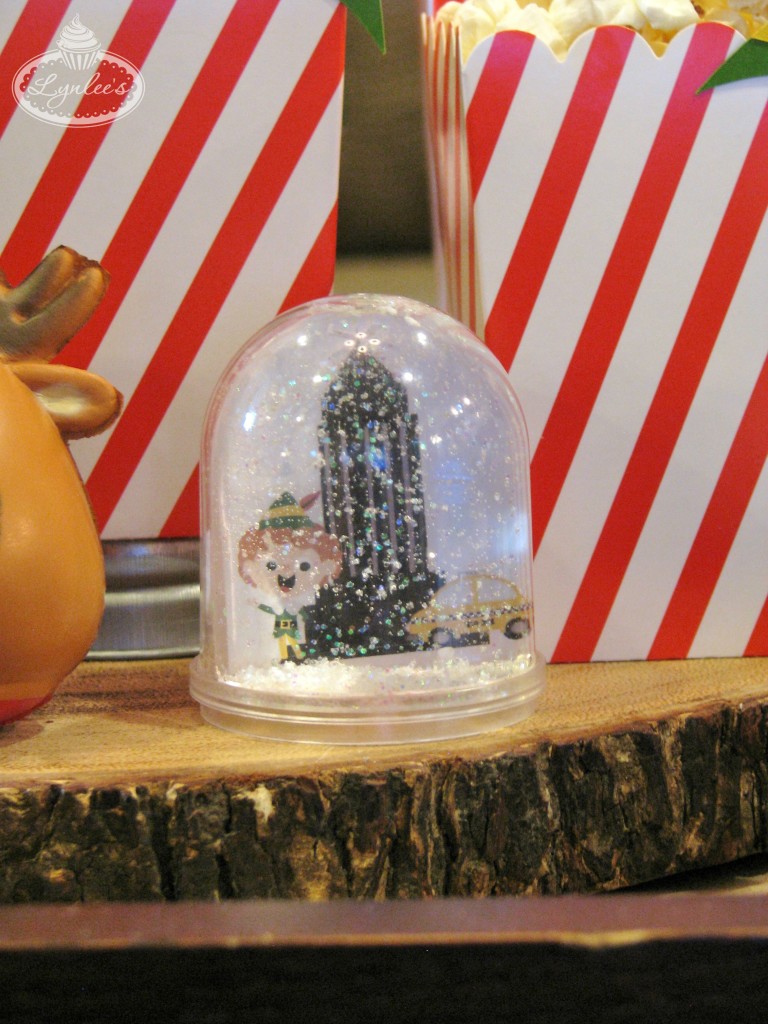 An item that is prevalent in the film is a snowglobe that is gifted to Buddy the elf as he leaves the North Pole on a search for his father who works at the Empire State Building. I got these Christmas Color Your Own Snowglobes and added graphics to the inside to match my theme. These snowglobes could also be used as a party activity, whether you utilize the inserts that come with them or allow guests to create their own! I found it easiest to put water in a little squirt bottle, then inserting the tip in the opening and filling the globes to capacity.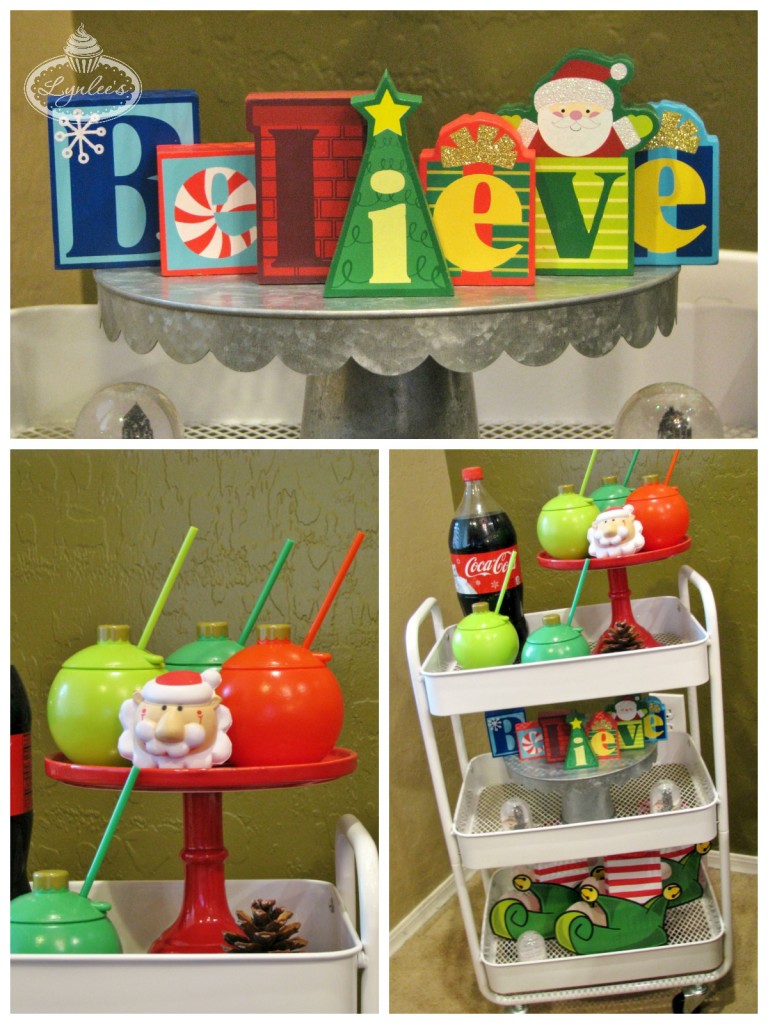 Since I had a limited amount of space on my tray, I decided to serve drinks and display additional party items on a separate cart. I used my white metal cart, but you can also use a shelf or a bar cart, which could be fun to pass out drinks and refills! These Believe decor blocks were perfect to add color to the display and fit perfectly with the film's theme! And I couldn't wait to serve drinks in the absolutely adorable Christmas ornament cups! I really liked that they had tops to avoid spilling and came with color coordinating straws. And lastly, I just couldn't resist the super cute elf boot bags that not only added magic to the presentation, but also served as perfect favor bags for the snowglobes, toys or leftovers!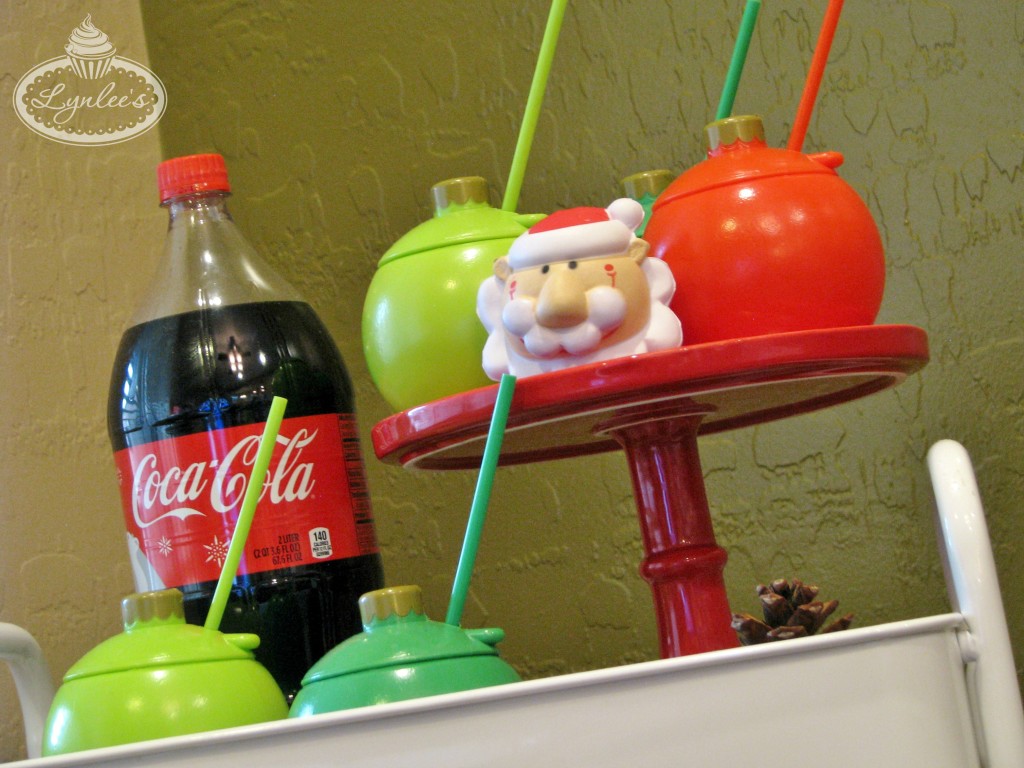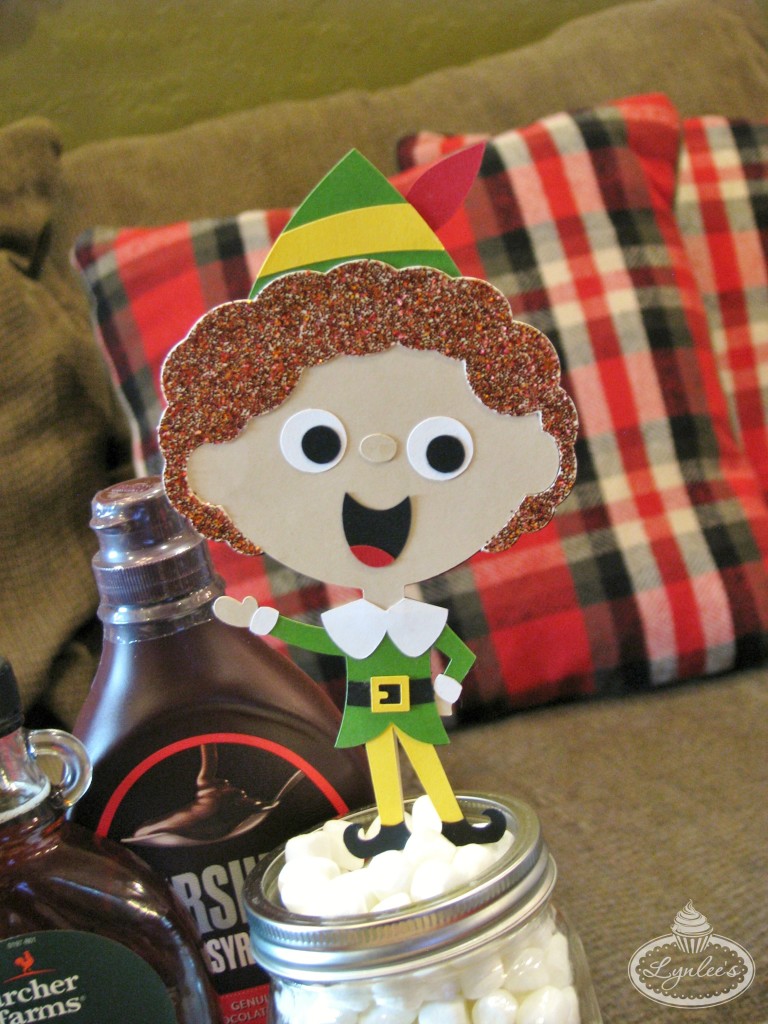 We had such a fun time watching one of our favorite Christmas movies at our Elf party to get us in the holiday mood! Buddy the Elf always puts a smile on our faces and coincidentally, smiling's HIS favorite!
What movie puts you in the holiday spirit?!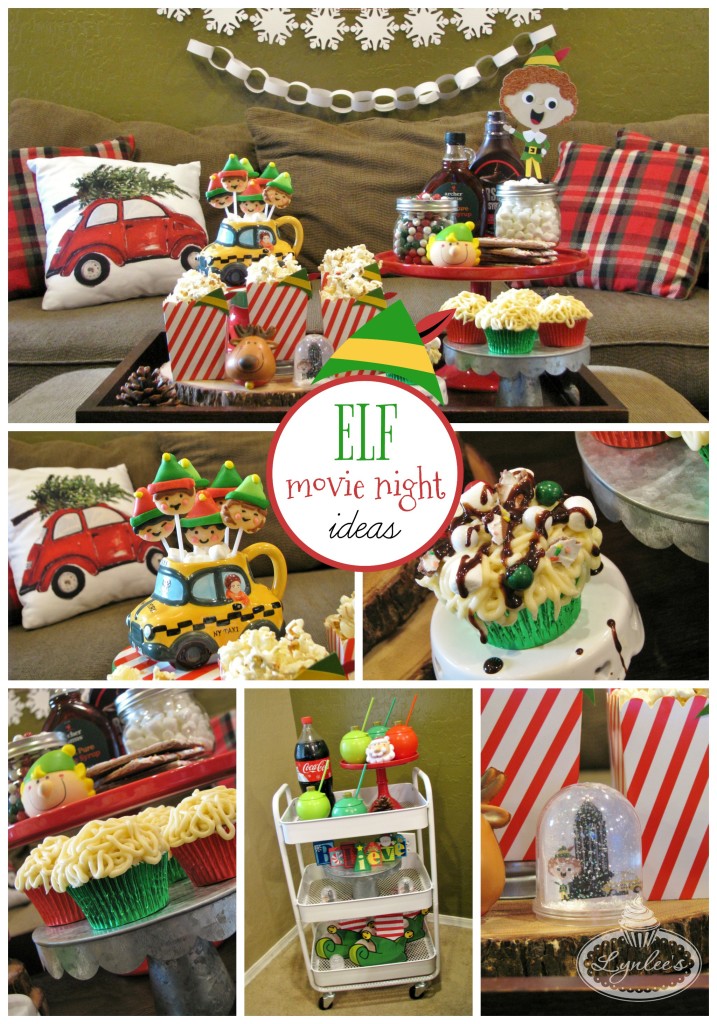 Merci Beaucoup!

This page may contain affiliate links. For more information, please read my
Terms & Disclosure
policy.