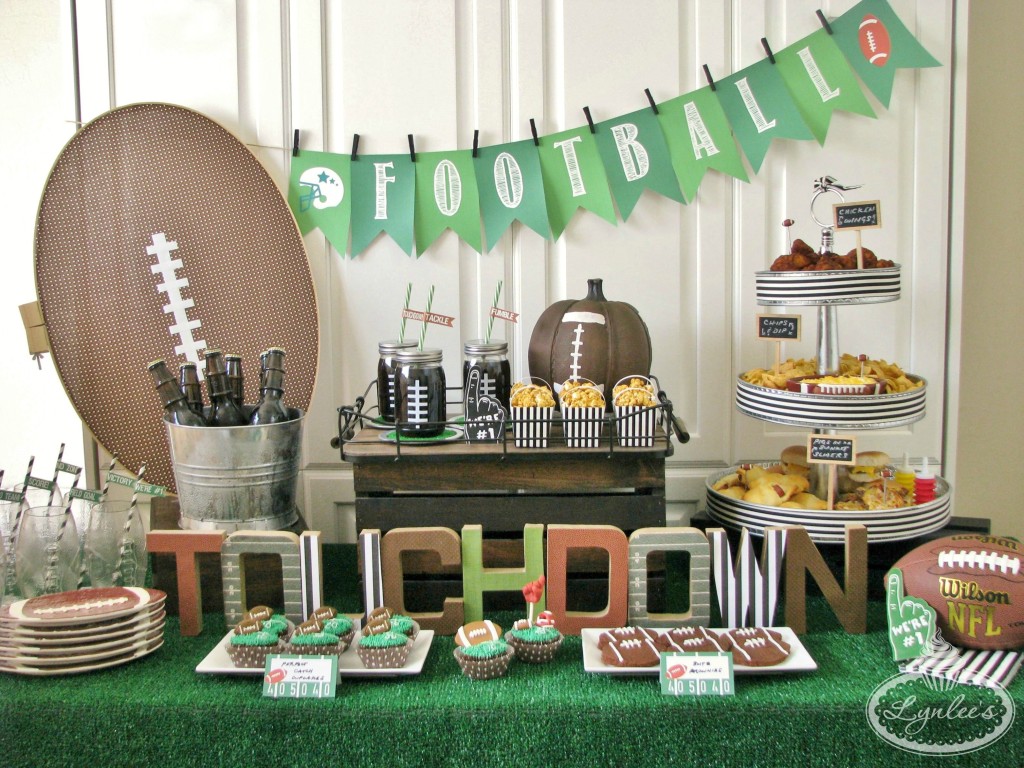 Are you ready for some FOOTBALL?!?! The hubby has been counting down the days until the season started back up again and what better way to celebrate than with an indoor tailgate football party?! Scroll down for some simple ideas to host a high-scorin' watch party as you cheer on your home team!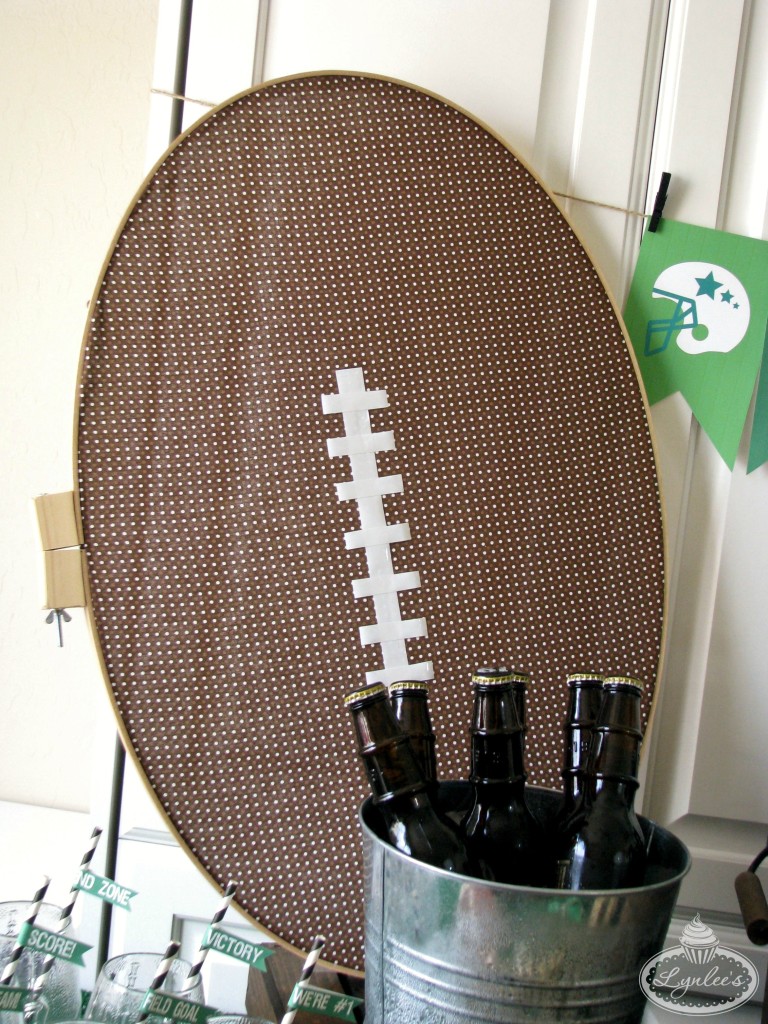 Decorations are an integral aspect of your game watching party! Set the field by creating a tablecloth cut from artificial grass easily found at a hardware store. To make a big statement, I got a large oval embroidery hoop and inserted brown polka dot fabric I found at Joann Fabric and Craft. To make the laces, I cut white duct tape into strips and adhered them directly to the fabric to make an oversized football decoration, perfect for the backdrop.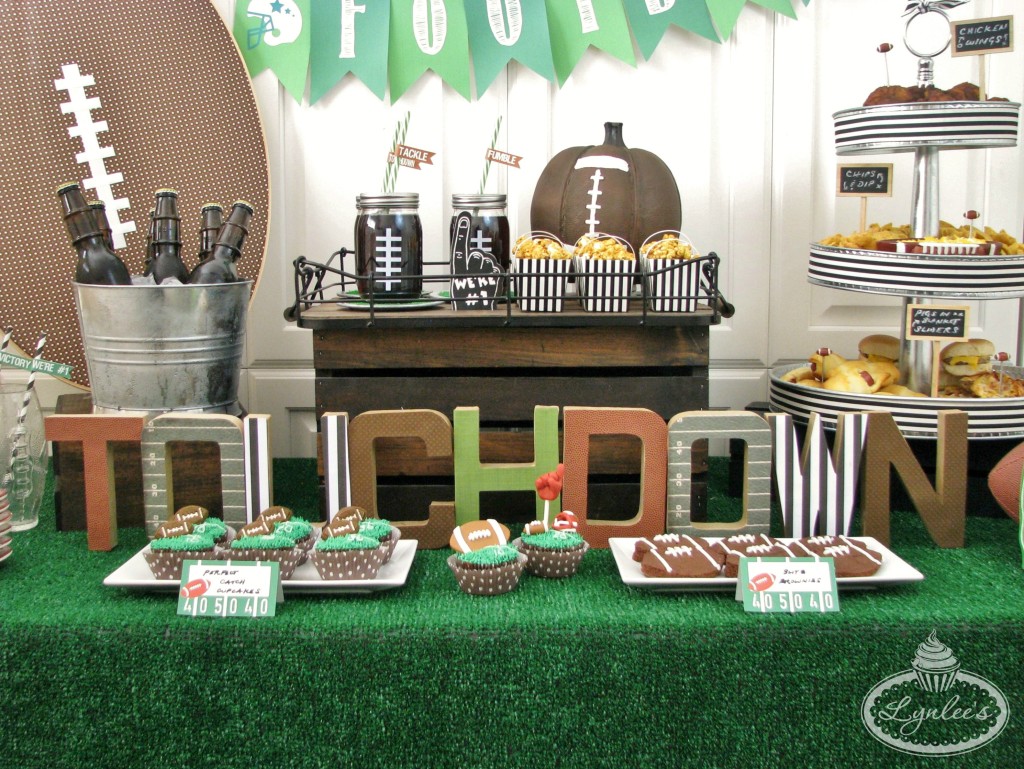 I also purchased paper maché letters spelling out the word TOUCHDOWN. You can find lots of options of scrapbook paper at craft stores to cover the letters, from football fields to black and white referee stripes to dotted football patterns. Utilize the letters to trace them over the paper and cut them out with scissors, then adhere them to the paper maché with Mod Podge and add a coat over the top to seal them.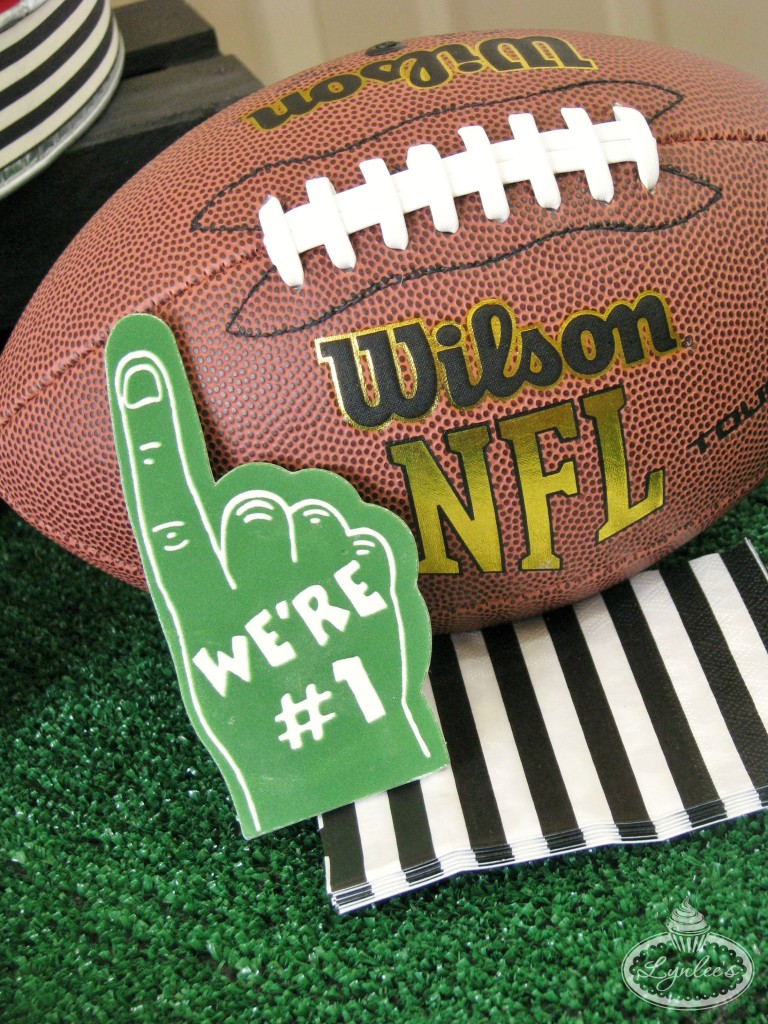 Feel free to gather lots of game items, such as footballs, foam fingers and team paraphernalia to add details to your table. And these black and white striped napkins from Hoopla Events are the perfect touch as a referee reference!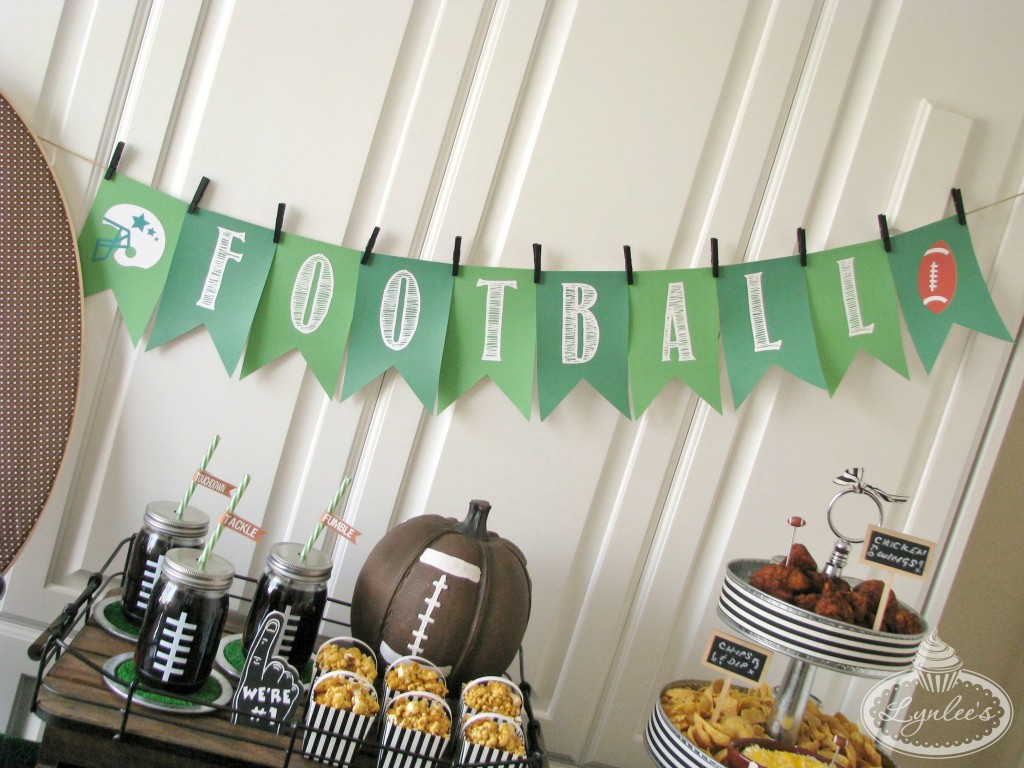 Banners can be the perfect addition to a table backdrop! I found these awesome free football printables from Second Chance to Dream that worked with my color scheme and coordinated well with the decor.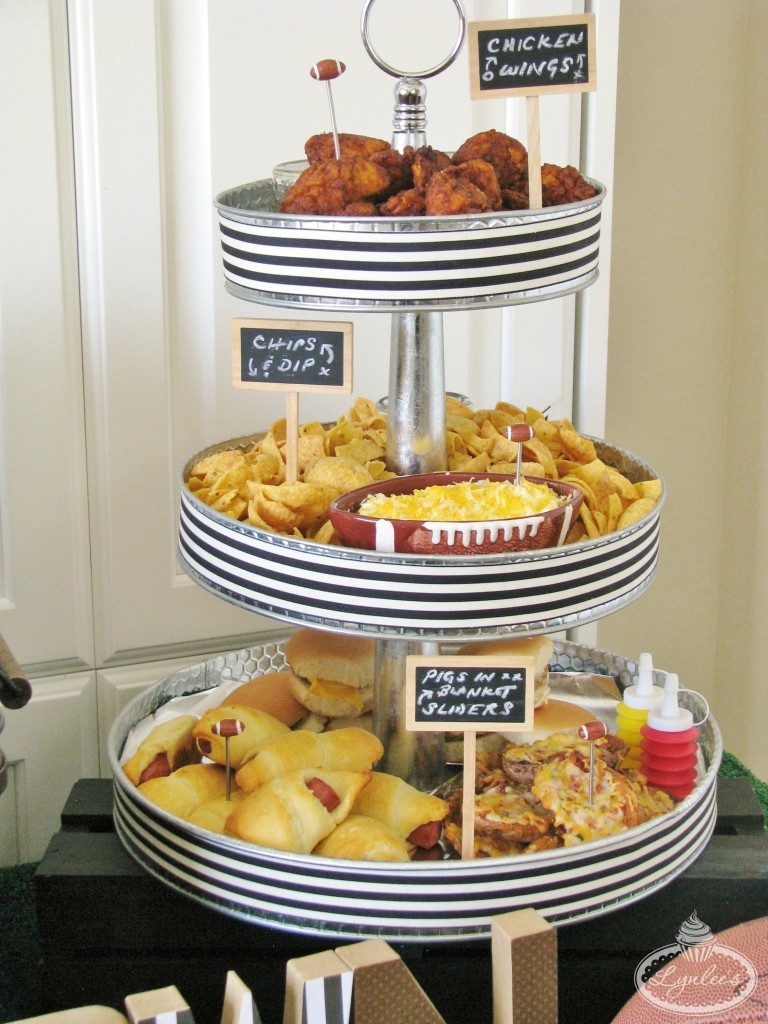 Game Day food is an essential part of any tailgate football party! Think of traditional dishes that are favorites amongst your guests and that are easy to eat in front of the television, from bbq wings to sliders to loaded potato skins and pig (skins) in a blanket! And what game can be watched without chips and dip?! Layer your offerings on a tiered galvanized tray to enhance your display and don't be afraid to dress it up with ribbon and chalkboard signs.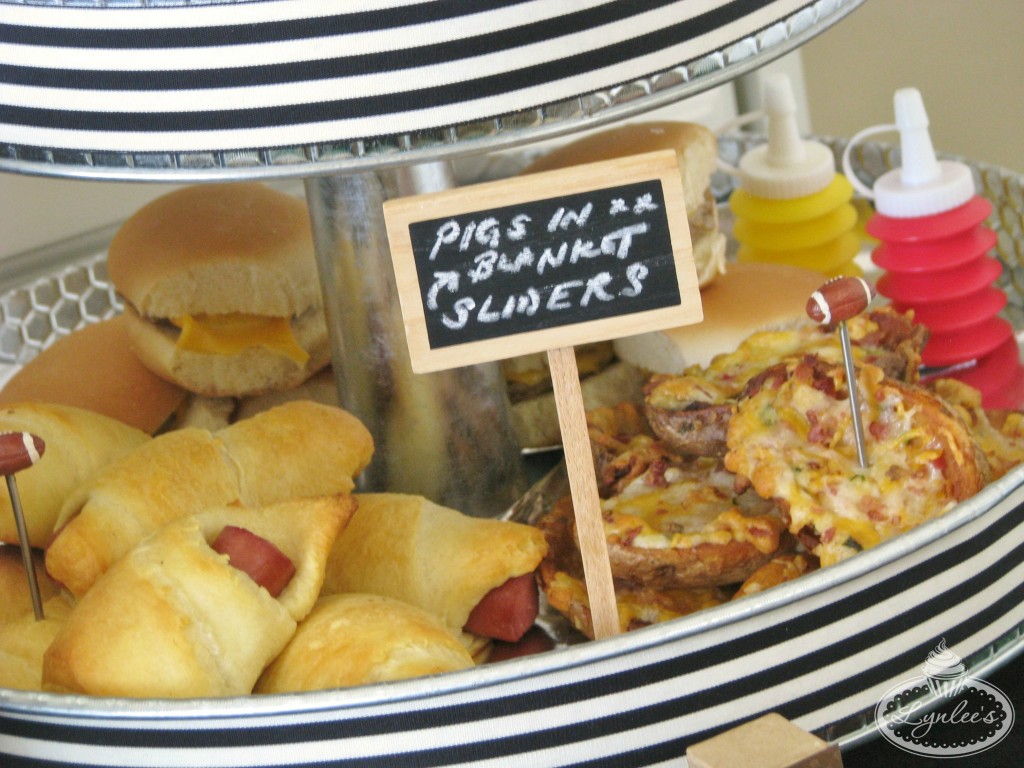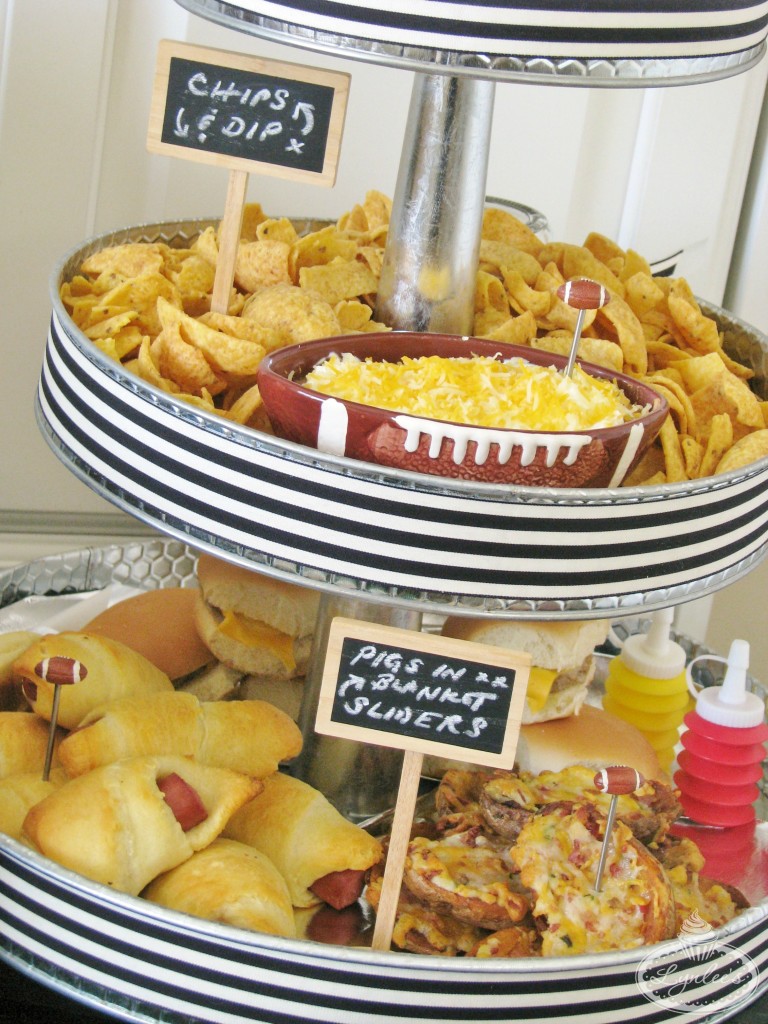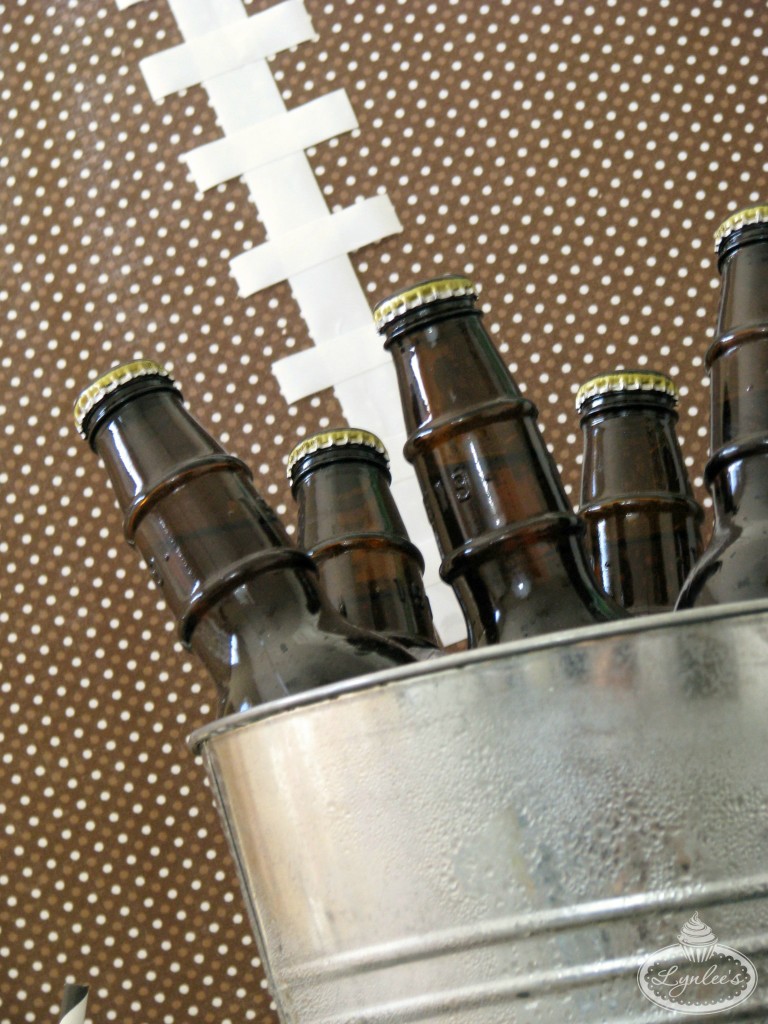 With all the work you and your guests will be doing eating and cheering on your team, don't forget to hydrate! Set up a hydration station with beer (or root beer and soda) and ensure they stay cold by displaying them in metal ice buckets. Offer up football glasses with patterned paper straws and printable flags and if you have little sports fans, utilize mason jars with lids to avoid spills. Add football laces with vinyl or tape or added detail.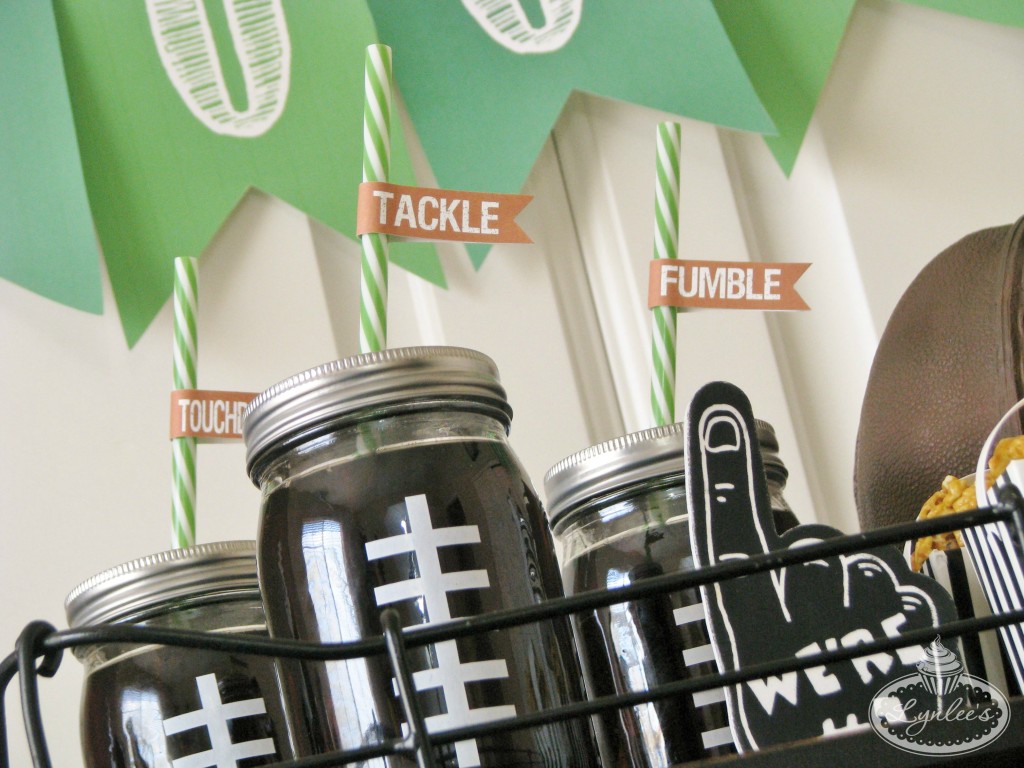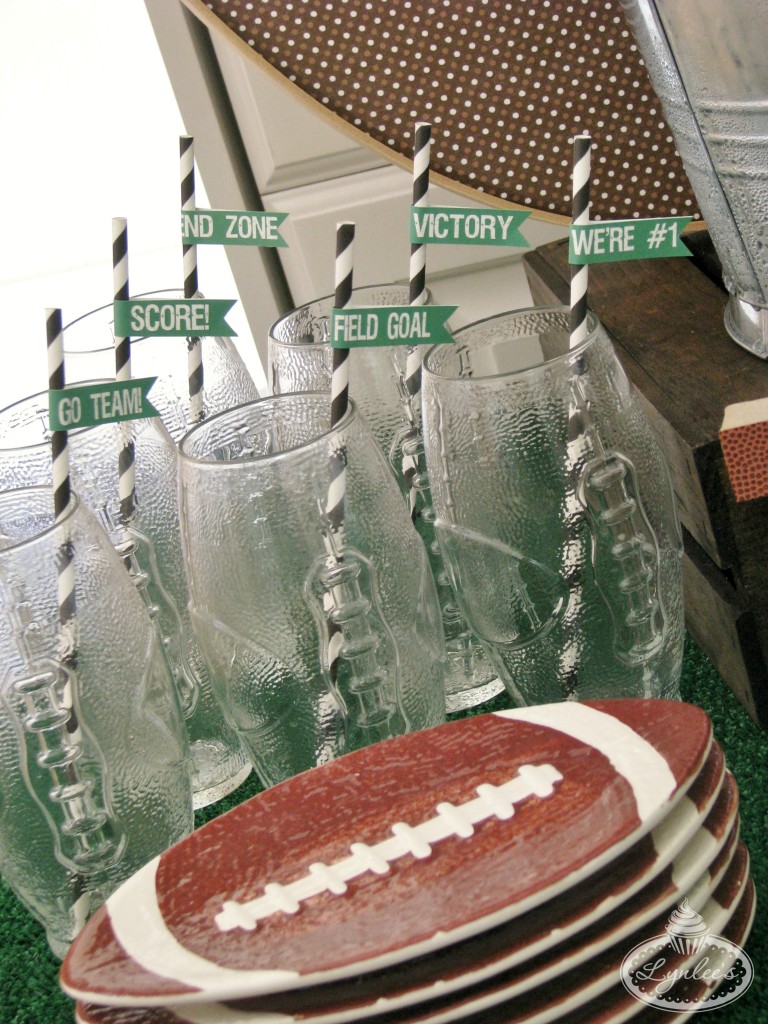 Now's your chance to score big: DESSERT! Decorate cupcakes by piping green frosting to resemble field grass and add football icing an fondant decorations to finish them off. Utilize football cookie cutters to cut out brownies, coookies or rice cereal treats and pipe laces with royal icing. Add additional goodies on which to munch, such as peanuts or caramel popcorn to individual striped boxes.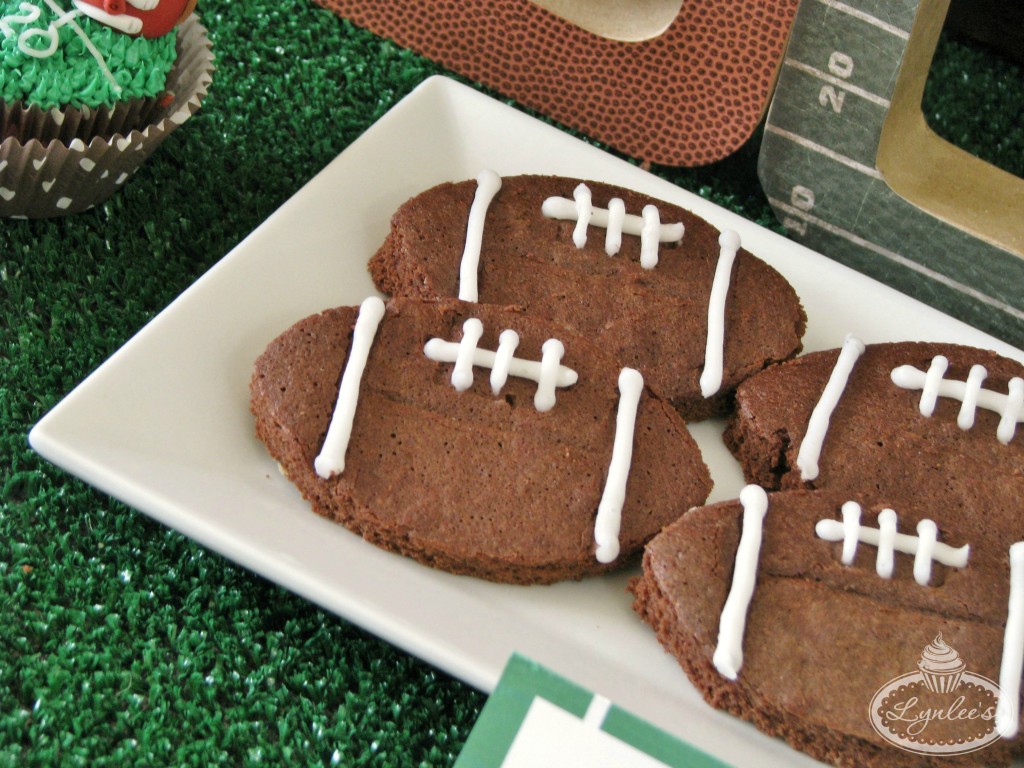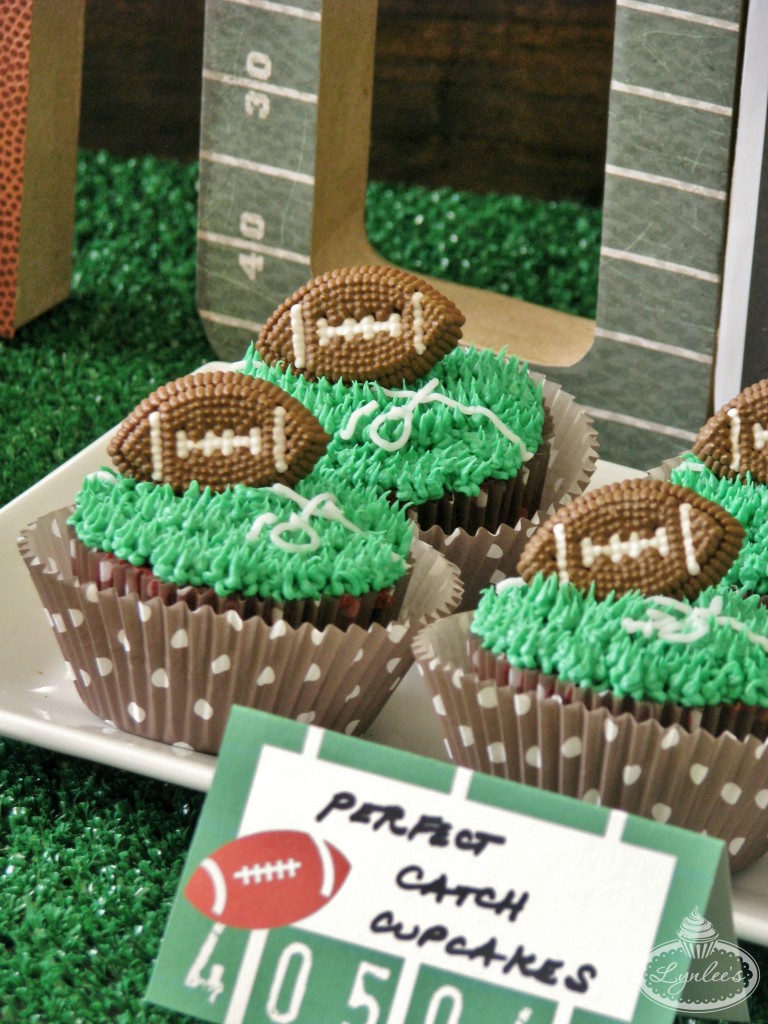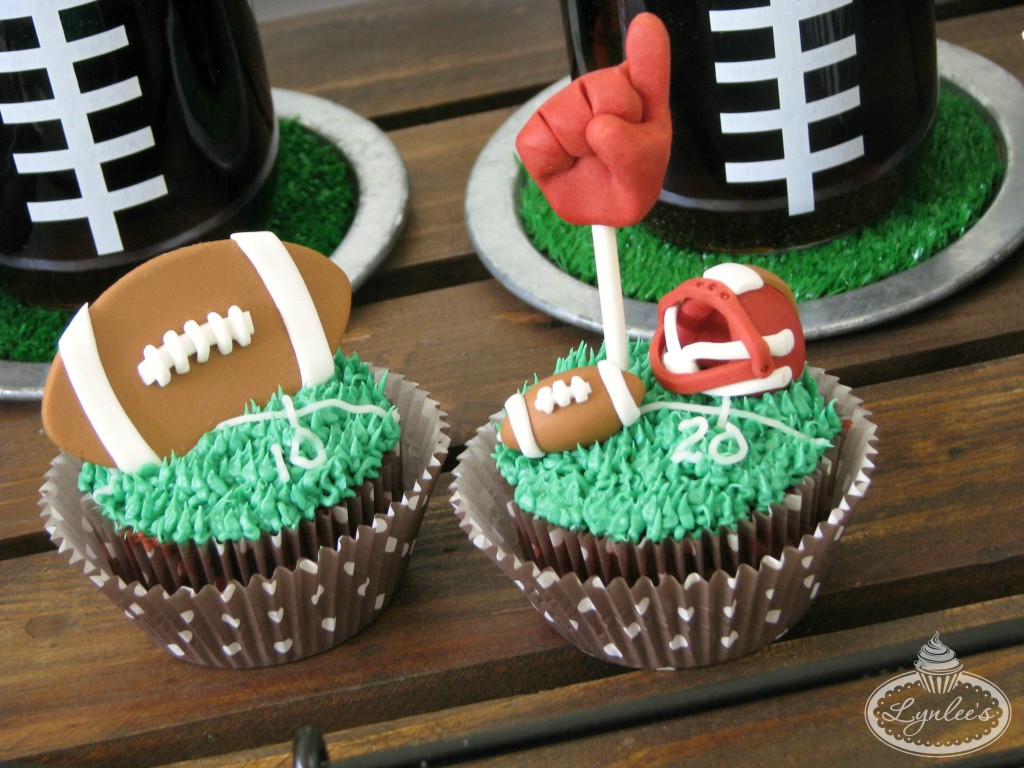 Now you're ready to welcome your sports fans to watch the game at your tailgate football party! For more football-themed parties and ideas, be sure to check out our Bittersweet Super Bowl and Home Bowl parties!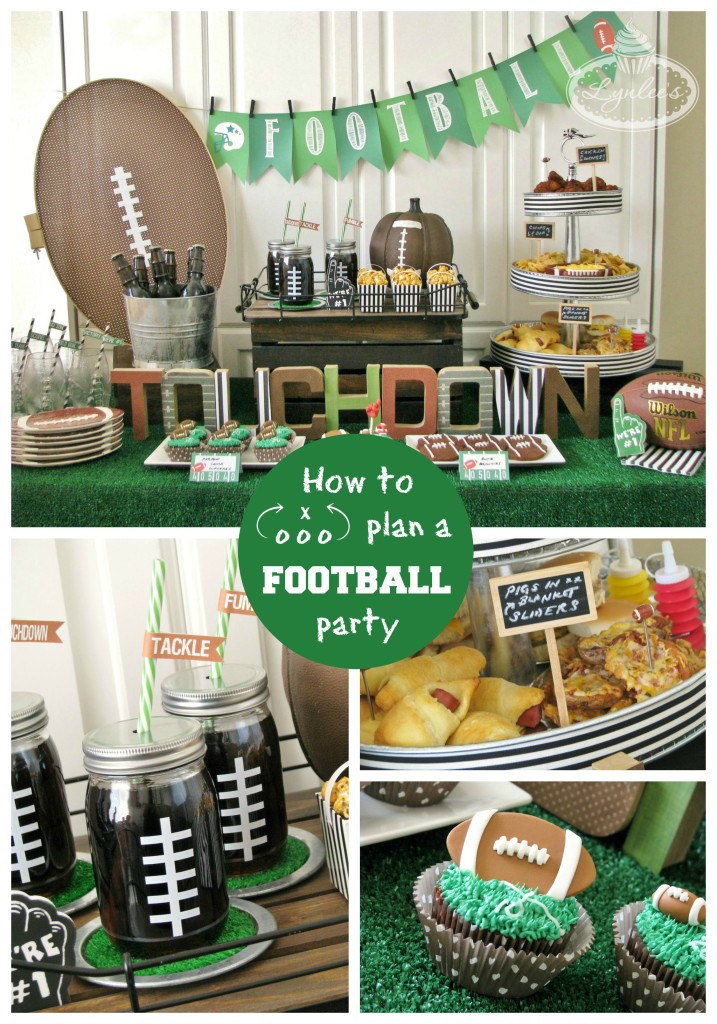 Merci Beaucoup!

This page may contain affiliate links. For more information, please read my
Terms & Disclosure
policy.