This shop has been compensated by Collective Bias and its advertiser. As always, all opinions are mine alone! #SpookySnacks #CollectiveBias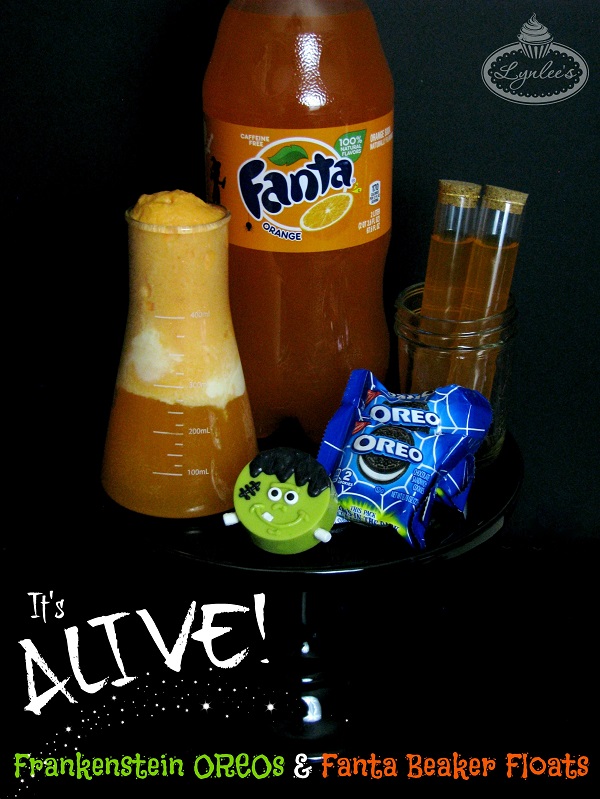 Every year, my family and I get super excited for Halloween, but end up getting super busy and not enjoying the lead up to it as much as we would like. I made the conscious decision to make sure that didn't happen this time around! My daughter is in third grade and I feel like this is the time when long-life memories are being formed, so we're making the most of the holidays, starting off with these Frankenstein OREOs and Fanta Beaker Floats we made for a delicious spooky snacks dessert for friends and family!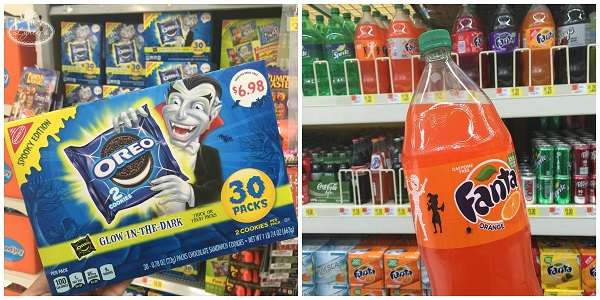 I went shopping at Walmart to find my ingredients from the Spooky Snack Lab to create these sweet goodies! I was going to pick up a regular OREO package, but then spotted this fun 30-pack with individual packages that actually glow in the dark in the Halloween aisle. Not only could I use them for this fun project, but also utilize them for school snacks, party favors and especially to hand out at our upcoming trunk-or-treat event at school! For the drink, I knew I wanted something that screamed HALLOWEEN and what better refreshment than orange Fanta?! Besides being the perfect color, I really wanted the carbonation to make foamy floats.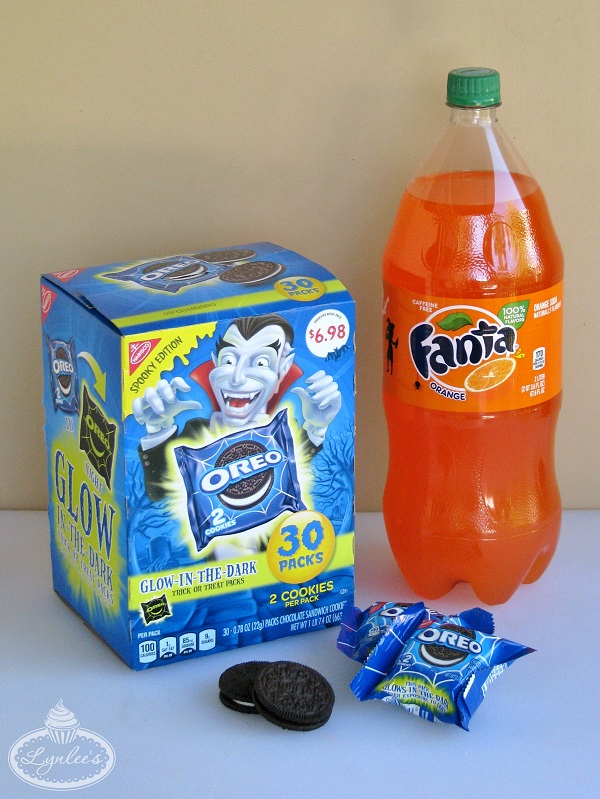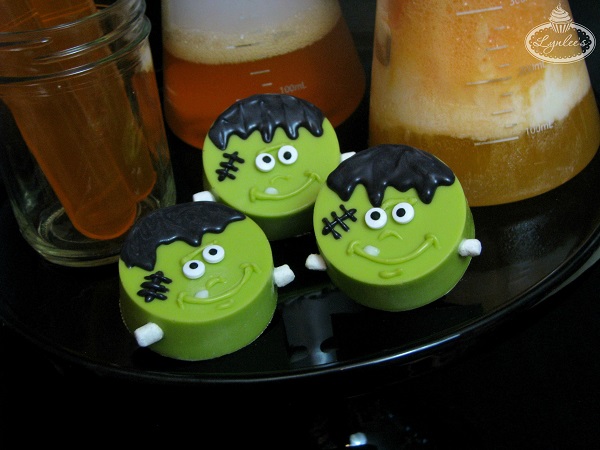 When coming up with an idea, I wanted to play upon the laboratory theme, especially since I had found some cute beaker cups that would work perfectly with the motif! So, I settled on serving bubbly Fanta floats, along with chocolate-covered Frankenstein OREOs! Follow the step-by-step instructions below to bring these goodies to life in your own sweet lab!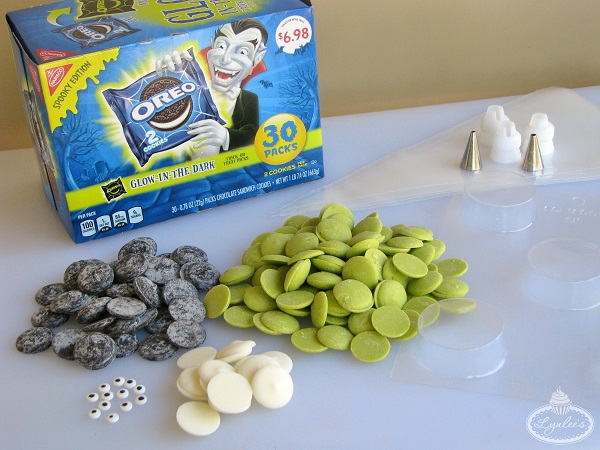 Frankenstein OREOs
Materials Needed:
♥ OREO Glow-in-the-Dark 30-pack
♥ Green, black, and white melting candy/chocoate
♥ Small candy eyeballs
♥ Chocolate cookie mold (you can dip OREO directly into melted chocolate, too!)
♥ Piping bags or plastic bottles (bottles will allow you to re-heat the chocolate, but not decorating tips)
♥ Round decorating tips (I used #1 and #5) and couplers for piping bags
♥ Miniature marshmallow bits (like the ones used for hot chocolate!)
♥ Toothpicks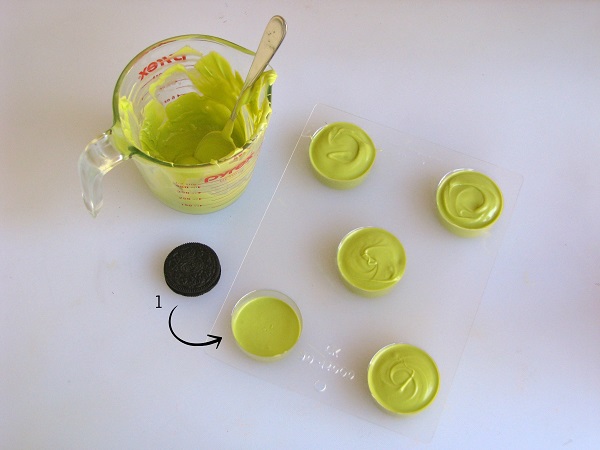 Step 1:
Melt green candy/chocolate melts in the microwave until it is nice and smooth. I start by microwaving it for 30 seconds, then followed by 15 second increments, making sure to stir well in between each time. Be careful not to over-heat, as the chocolate will basically cook and get hard! If using a mold, fill each cavity 1/2 full of melted chocolate, place an OREO in the center, then fill it up the rest of the way. Place the mold in the freezer for approximately 15 minutes or until completely hardened before removing it.
Note: If you are dipping your OREOs directly into the chocolate, utilize a spoon to dip it, and make sure to take as much excess off. Place them on a parchment sheet to dry and harden. You can also utilize cookie sticks by taking apart an OREO cookie, sandwiching the stick between the two sides with the assistance of a bit of melted chocolate, then dipping the OREO pop in the chocolate and tapping off the excess.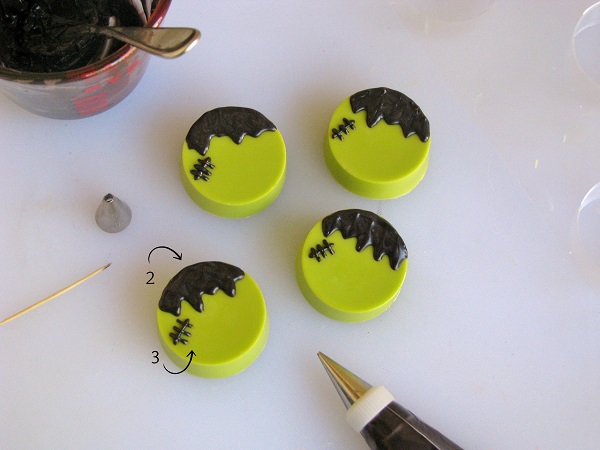 Step 2:
Melt black chocolate melts (same manner as above) and pipe Frankenstein's hair with round decorating tip #5.
Step 3:
Pipe the scar stitches with round decorating tip #1.
Note: I utilized a piping bag with the decorating tips and couplers so that I could vary the sizes, but if following this same method, you need to work quickly as the chocolate will harden within the bag and tip. You can also utilize a piping bag or plastic sandwich bag on their own and cut the tips based on the sizes you need.
If you use a squeeze bottle, it's easier to re-heat the chocolate if it begins to harden, but unless you have various tips, it can be more difficult to do smaller and precise piping.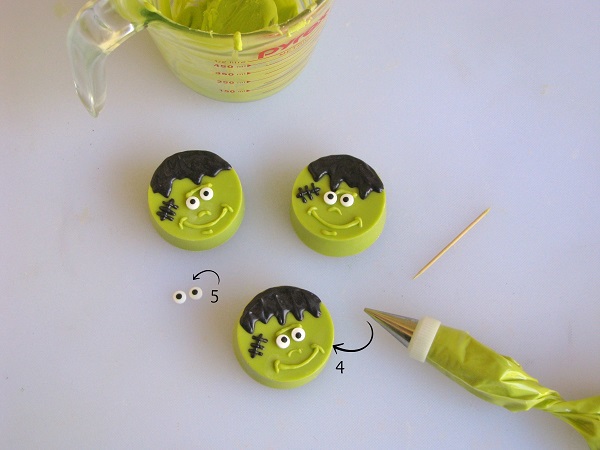 Step 4:
Melt additional green chocolate melts (same manner as above) and pipe Frankenstein's brow, nose, mouth and dimple with round decorating tip #1, making sure you leave enough room for the candy eyes.
Step 5:
Add a bit of chocolate to the back of each candy eye and glue them to Frankenstein's face.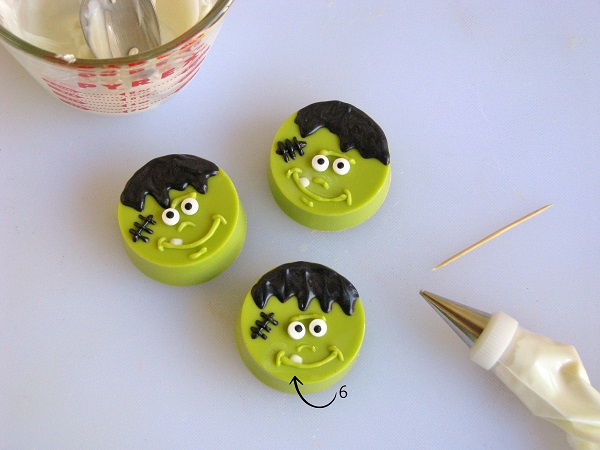 Step 6:
Melt white chocolate melts (same manner as above) and pipe a little tooth with round decorating tip #1.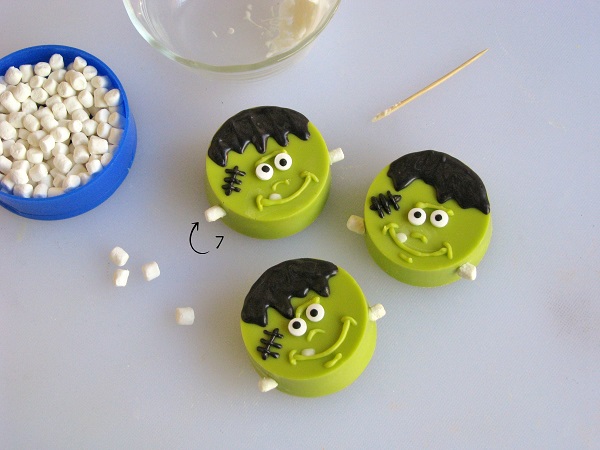 Step 7:
Add a bit of chocolate to mini marshmallow bits and attach them to the sides of each Frankenstein OREO to resemble bolts.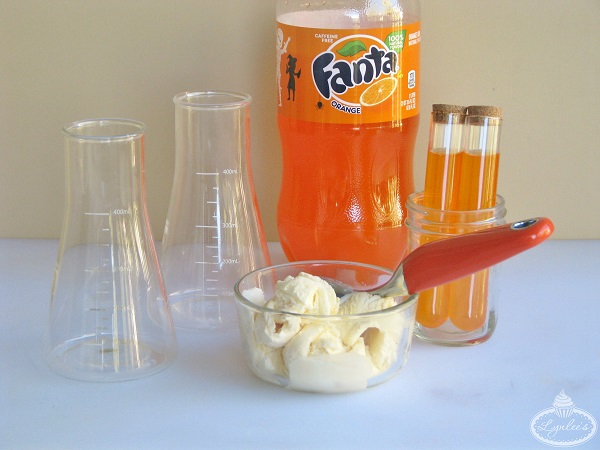 Fanta Beaker Floats
Materials Needed:
♥ Fanta 2-liter bottle
♥ Vanilla ice cream
♥ Test tubes
♥ Optional: dry ice
Step 1:
First, fill test tubes with Fanta. When the floats are ready to be consumed, fill the beakers with vanilla ice cream and allow each guest to create their own experiments by adding Fanta with a test tube!
Add dry ice to a beaker and fill it with Fanta for some additional spooky fun! Make sure never to touch dry ice with your bare hands and allow it to dissolve completely prior to drinking. I would advise wearing gloves and utilizing tongs when handling it.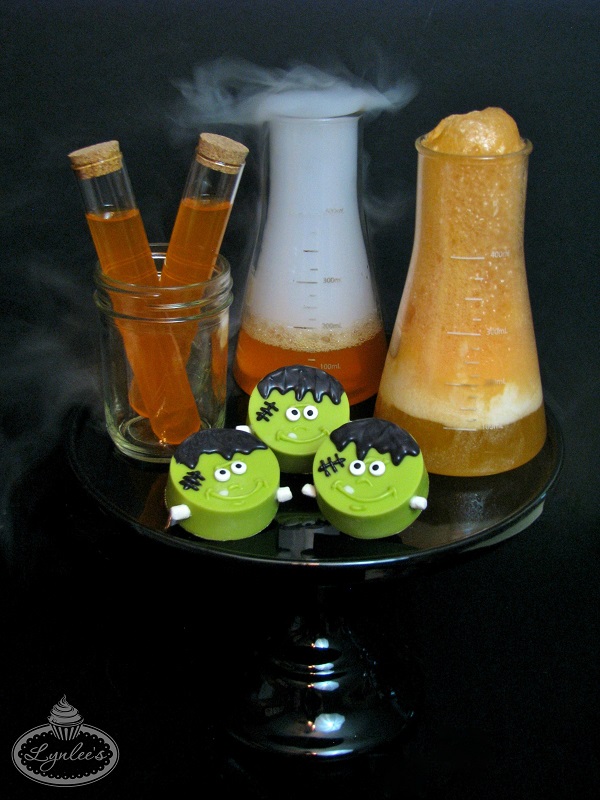 So fun, right?! I love that the combination of the Frankenstein OREOs and Fanta Beaker Floats provides an extra activity for your guests! And for additional Spooky Snacks inspiration, check out additional Walmart-exclusive recipes from CBS' Recipe Rehab host, Evette Rios, for your Halloween treats!
What's your favorite Spooky Snack combo that you would like to try? Have any other ideas?!
Merci Beaucoup!

This page may contain affiliate links. For more information, please read my
Terms & Disclosure
policy.