This past weekend, we commemorated my mother's birthday with a serene, spa-themed party! You may recall last year's Come Fly Away celebration, reminiscing about the good 'ole days when my mom worked for Pan Am Airways. This year, I wanted a more tranquil feel to pamper my incredibly hard-working mom and provide a relaxing setting with a spa party to fete another year!
There have been many super adorable children spa parties popping up lately, but I wanted to execute a more mature, adult ambience. I decided on a cool and calming color palette of neutrals, green and greys, with pops of soft pink and light blue, especially when I found the perfect graphics from Cupcake Cutiees! I focused on natural elements, including black rocks, bamboo and sand, along with fun, easy and affordable themed food and desserts. The majority of the decor and food were purchased at Home Goods, the 99c Only Store and The Dollar Tree, which, partnered with cute embellishments, really set the high-class mood on a budget! I have gotten a lot of use of the chalkboard backdrop recently originally made for my Growing up 80's party, as well as my daughter's Too Cool for School Fashion Show. I erased the chalk locker designs, added a sage batik curtain and some coordinating bath decor on the shelf to transform it into a chic spa!
The dessert table was centered by cupcakes, adorned by rocks, bamboo and spa towel decor. Throughout the rest of the spa table, treats were dedicated to items found a spas and salons, inclusive of cucumber rice krispies treats, biscotti resembling pumice stones and cotton marshmallows. Pink cotton candy was easily shaped into loufas and partnered with bamboo pirouettes and wafer nail files. Facial scrub yogurt was served in small shot glasses in zen garden containers.
Since the party took place in the afternoon, I served simple food that were as cool as a cucumber, including rolled towel turkey wraps and refreshing cucumber water.
Guests were provided with some spa accessories, such as lotion, loufas, disposable flip flops and nail care tools that, in addition to utilizing at the party, they took home as favors. We also had a home foot spa, massages and nail polish available!
We all had a fun and relaxing time and were successful in pampering the well-deserved guest of honor who does so much for ALL of us on a daily basis! Namaste! ♥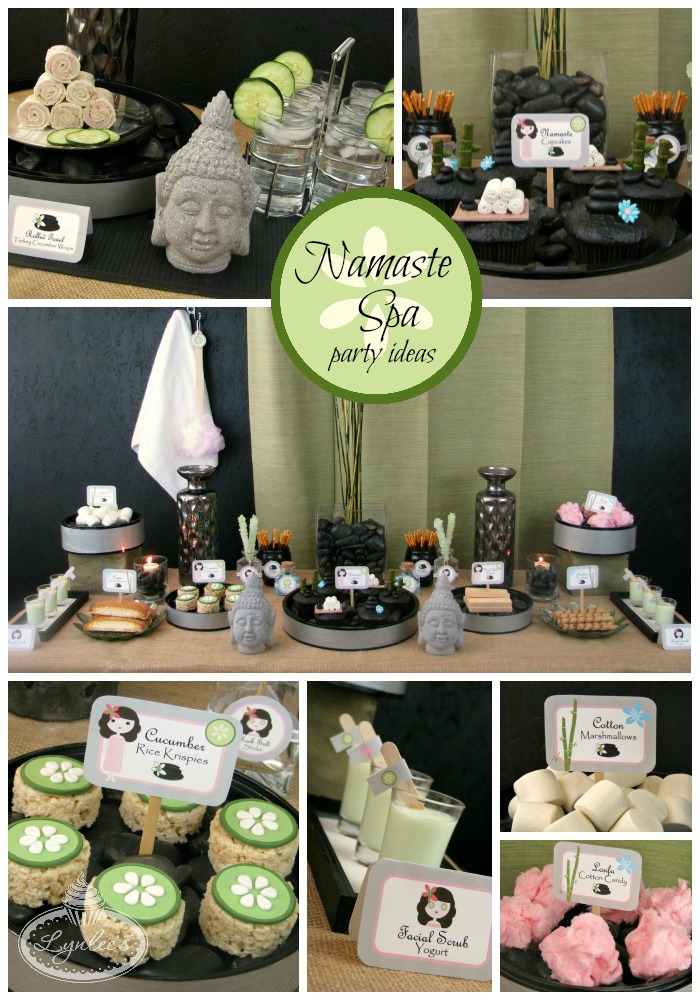 Merci Beaucoup!

This page may contain affiliate links. For more information, please read my
Terms & Disclosure
policy.