This past week­end, we com­mem­o­rated my mother's birth­day with a serene, spa-themed party! You may recall last year's Come Fly Away cel­e­bra­tion, rem­i­nisc­ing about the good 'ole days when my mom worked for Pan Am Air­ways. This year, I wanted a more tran­quil feel to pam­per my incred­i­bly hard-working mom and pro­vide a relax­ing set­ting with a spa party to fete another year!
There have been many super adorable chil­dren spa par­ties pop­ping up lately, but I wanted to exe­cute a more mature, adult ambi­ence. I decided on a cool and calm­ing color palette of neu­trals, green and greys, with pops of soft pink and light blue, espe­cially when I found the per­fect graph­ics from Cup­cake Cutiees! I focused on nat­ural ele­ments, includ­ing black rocks, bam­boo and sand, along with fun, easy and afford­able themed food and desserts. The major­ity of the decor and food were pur­chased at Home Goods, the 99c Only Store and The Dol­lar Tree, which, part­nered with cute embell­ish­ments, really set the high-class mood on a bud­get! I have got­ten a lot of use of the chalk­board back­drop recently orig­i­nally made for my Grow­ing up 80's party, as well as my daughter's Too Cool for School Fash­ion Show. I erased the chalk locker designs, added a sage batik cur­tain and some coor­di­nat­ing bath decor on the shelf to trans­form it into a chic spa!
The dessert table was cen­tered by cup­cakes, adorned by rocks, bam­boo and spa towel decor. Through­out the rest of the spa table, treats were ded­i­cated to items found a spas and salons, inclu­sive of cucum­ber rice krispies treats, bis­cotti resem­bling pumice stones and cot­ton marsh­mal­lows. Pink cot­ton candy was eas­ily shaped into loufas and part­nered with bam­boo pirou­ettes and wafer nail files. Facial scrub yogurt was served in small shot glasses in zen gar­den containers.
Since the party took place in the after­noon, I served sim­ple food that were as cool as a cucum­ber, includ­ing rolled towel turkey wraps and refresh­ing cucum­ber water.
Guests were pro­vided with some spa acces­sories, such as lotion, loufas, dis­pos­able flip flops and nail care tools that, in addi­tion to uti­liz­ing at the party, they took home as favors. We also had a home foot spa, mas­sages and nail pol­ish available!
We all had a fun and relax­ing time and were suc­cess­ful in pam­per­ing the well-deserved guest of honor who does so much for ALL of us on a daily basis! Namaste! ♥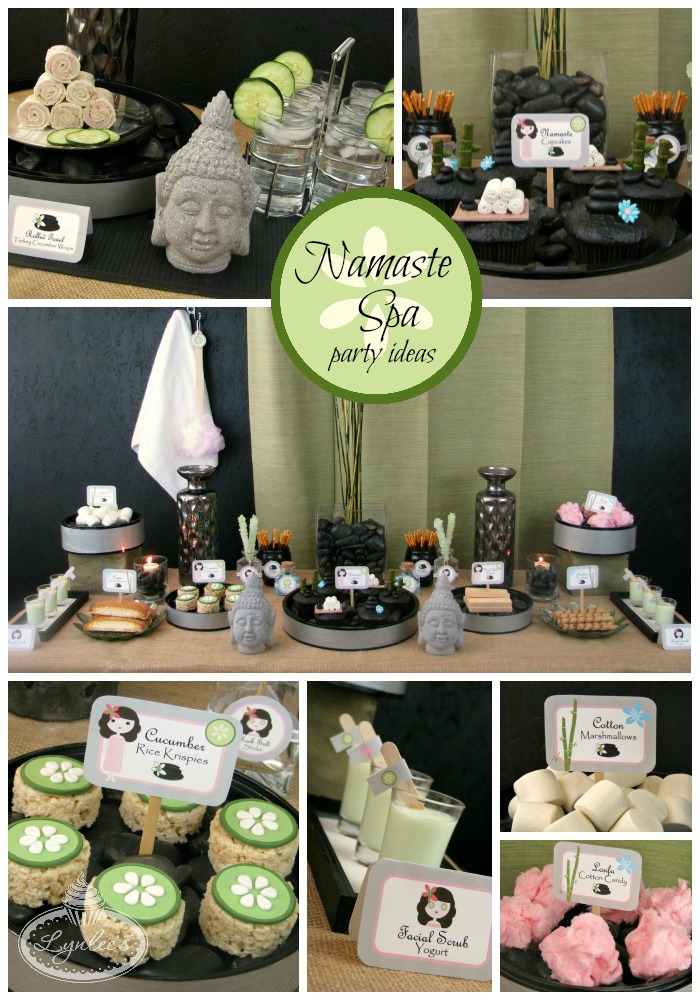 Merci Beau­coup!

This page may con­tain affil­i­ate links. For more infor­ma­tion, please read my 
Terms

&

Dis­clo­sure
 policy.