While my mind has been in Never Never Land as I have been planning my daughter's 4th birthday party coming up in a couple of weeks, I can't help thinking that time is going by way too quickly! Is it possible to project "Peter Pan syndrome" onto someone else?! I don't want my daughter to ever grow up!!! I feel like she just turned one a minute ago! As I reminisce about her first birthday, I thought I'd share some pictures of the celebration. We threw her a sweet French Market Poodle party to fete the occasion, especially since I'm slightly obsessed with Paris and our pet is a French Poodle, bien sur!
The guests were greeted at the door by a welcome sign…
Bienvenue sign
On the patio, we re-created a French Market feeling with different stands. My parents were an ENORMOUS help in building the backdrops to each stand, from putting together the pipes and sewing the fabric. I was then able to paint the background.
Welcome to Le Marche!
Anabelle's French Market
We had a painting and photo stand to capture the art found in the market, while showcasing photos of Anabelle's first year with her friends and family. I also made "cartes postales" (postcards) that had pictures of all the guests and were available for them to take home and actually use to mail!
Painting and Photo Stand
Anabelle's 1st Year
Cartes Postales 5F
Easel with my daughter's photo on canvas
At the flower stand, we had bushels of pinks, whites and purples and a station for guests to leave Anabelle notes with floral pens.
Belles Fleurs
The drink stand offered pink lemonade and water. Girls had pink Eiffel Tower cups, while the boys had dog bone cups!
Beverages
Each cup had a poodle stamp with the guests' names and tied on with ribbon.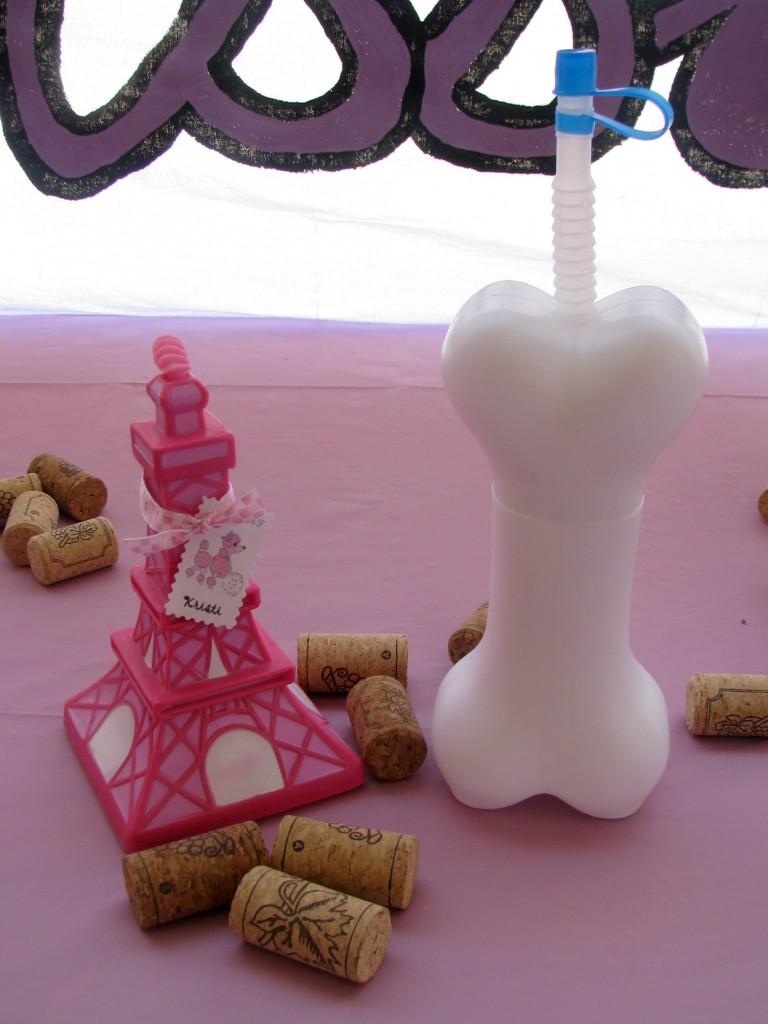 Eiffel Tower and dog bone cups
We also had pink dog bone sugar cookies and lots of fresh fruit!
Cookies, Fruit and Cheese
Chef's Special
Floral Centerpiece & Photo Confetti with Guest Pictures
No stroll down the Seine is complete without seeing French painters! We had a caricaturist drawing pictures of the guests at the party, which made fabulous keepsakes!
Caricaturist
I made a buttercream poodle cake for the birthday girl! We also had cupcakes with adorable poodle candles.
Cake and gifts
Pink Poodle Cake
The favors included French poodle and bulldog finger puppets, a blow-up pink poodle and a CD with French music for both kids and adults.
Favors
My Little French Belle!
The Birthday Girl and her Poodle
As sad as I am that she's growing up, I LOVE to do everything I can to make her birthday special and this year is no exception… especially with help of Tinkerbell to 
ring
 in the big
4
! I'm so excited to visit Never Never Land… and can't wait to share with you!

Merci Beaucoup!

This page may contain affiliate links. For more information, please read my 
Terms & Disclosure
 policy.