–
Who's ready to do some Summertime grillin' with a sizzling hamburger and hot dog?! I have to admit that I've never really grilled anything on the barbecue before. Back in high school, I decided to fry up some potstickers with my little brother, Les, and let's just say it didn't go so well… as flames shot up from the stove and engulfed those poor defenseless potstickers! Then, just the other day, I was watching a segment on a news show about the dangers of propane tanks on bbq's, with a full demonstration of an explosion that burned those mannequin legs right off! I mean, it's a practically a miracle I've made it this far. So, to prolong my life, as well as the lives of those around me, I decided to take pleasure in others' abilities to grill, while sticking to my mission of turning everything into fondant!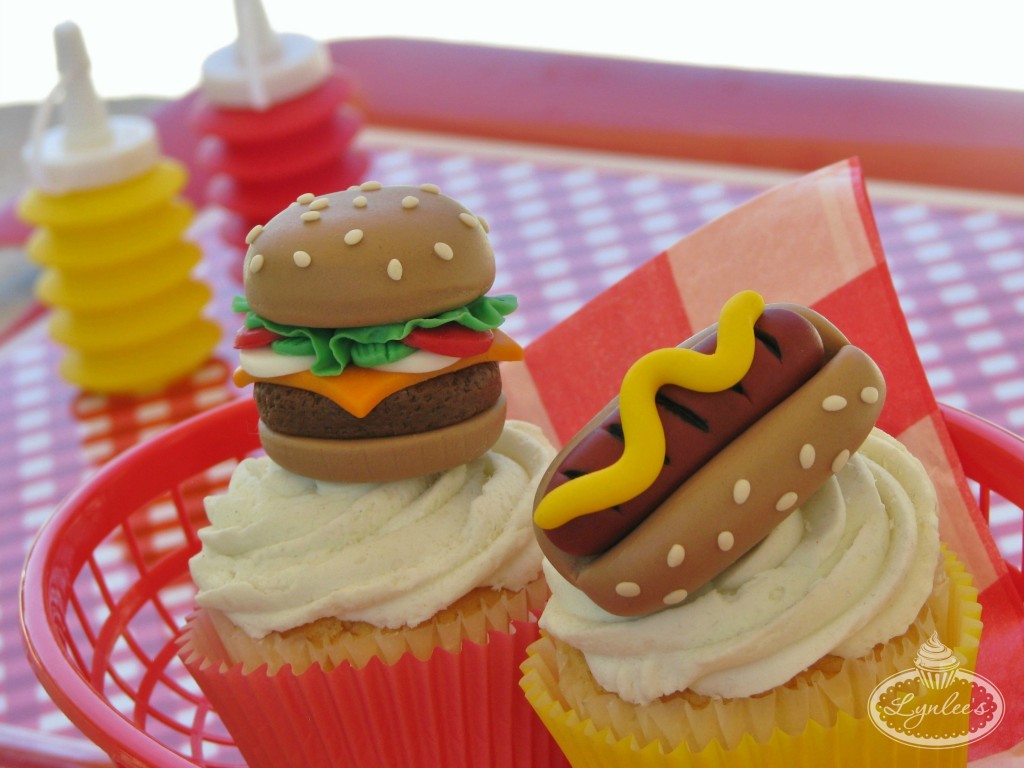 I was super excited to get the opportunity to work with Wilton to cook up these tutorials to make fondant hamburgers and hot dogs for your Summer get-togethers, especially since yesterday was just National Hot Dog Day! Wilton sent over some of their new Decorator Preferred fondant to try out and I was very pleased with the new formula for making and molding cupcake toppers. I liked the pliability of the fondant and noticed right away that it allowed me to fix some small mistakes, like a nail indentation, with more ease than I was used to in the past. Oh, and for this specific project, I used the fondant as is, but if I wanted to firm it up a bit, I would add some Tylose powder and allow it to set.
To re-create both the hamburger and hot dog fondant toppers for your next barbecue, head on over to the Wilton blog for the step-by-step instructions and corresponding images. And be sure to check out Wilton's Facebook page to enter the giveaway for a chance to win a copy of my book, Sweet & Unique Cupcake Toppers, along with a Wilton Decorating Kit!!!
And don't forget: safety first, keep calm and grill on! 😉
Merci Beaucoup!

This page may contain affiliate links. For more information, please read my
Terms & Disclosure
policy.