In Part I of my daughter's Finding Neverland party post, we began our journey through this magical land! As we flew over, we caught a glimpse of the decor of the Darling nursery, including the food, beverages and dessert. And now our adventure continues…
To aid the children in imagining and navigating through Never Never Land, I hired Ms. Louisa from the fabulous and enchanting Fairytales and Tutus ballet studio my daughter attends to read Peter Pan and transport the kids from the nursery into Neverland. The first step in the transformation was to dress in costumes! I had fairy wings and tutus available for the girls, as well as pirate gear (scarves, eye patches, hooks and inflatable swords) in treasure chests that my father helped to stain.
Ms. Louisa also brought additional costumes, such as mermaids, indians and the lost boys, just to name a few! The children were free to choose their outfits, which was so fun and added to the imaginative play, as my daughter had three costume changes throughout the party… from a mermaid to an indian and a fairy!
I filled little jars with pixie dust and added a little tag with a tiny little bell to symbolize Tinkerbell. The paper I had utilized to make the invitations also had a golden compass, so I took advantage of the "scraps" and made little wooden compasses, which I "Mod-Podged" for all the children to navigate around.
After hearing the story, the children learned to fly by sprinkling the magical dust and jumping on a trampoline!
Ms. Louisa then led them through activities from sinking pirate ships with cannonballs at Skull Rock, jumping over the crocodile, swimming through the Mermaid Lagoon with bubbles and a pow wow at the Indian Camp.
Ms. Louisa's presence at the party was invaluable, as it allowed the kids to play all together and utilize their imagination, while the parents watched and enjoyed without worry. I cannot thank Fairytales and Tutus enough for helping the children (and adults) to believe.
I added to the combination of the nursery and Neverland décor with a bookcase and additional furnishings, such as clocks, ships and wooden blocks I made with Anabelle's name (from a DIY tutorial seen on the Martha Stewart website).
I continued to place quotes from the various characters with the décor in small frames and silhouettes cut out with the Disney Classic Cricut cartridge attached to canvases – both purchased from Michaels. Stuffed animals, such as a crocodile and dog to stand for Nana, softened up the decorations and provided additional props for the children!
Another hit with the kids was a table I set up at the Mermaid Lagoon with plastic bubble bottles they could fill up with colored sand. I used glass jars found at Joann's with small metal spouts to facilitate the pouring. It provided the children yet another activity that required little supervision and since we were outside, it lessened the concern of leaving a mess!
Since imagination and costumes were already enormous components of the party, we could not do without a photo booth! With the help of my parents and their piping and sewing talents, we created a backdrop, which I embellished with a "Happy Birthday, Anabelle" sign I made. The props were stored in a mini toy box I bought from Hobby Lobby my husband helped to paint, along with another frame and a sign to be held up reading "believe". The toys in the Darling nursery ranged from a pirate's hat to feathers to a crocodile hat! I also had another frame that could be utilized in the photos as well.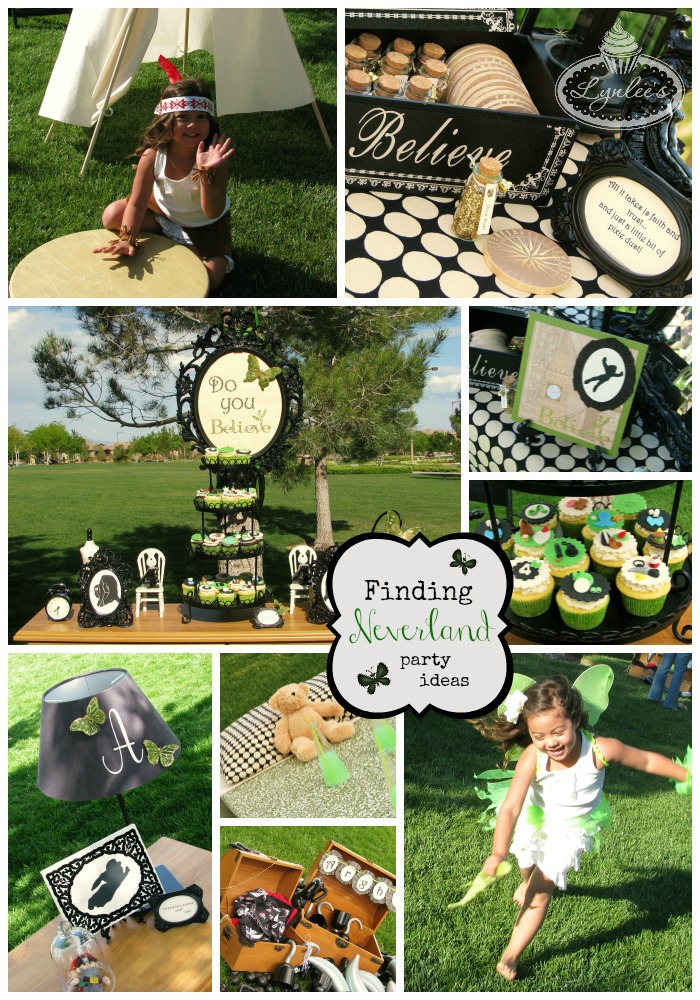 Merci Beaucoup!

This page may contain affiliate links. For more information, please read my 
Terms & Disclosure
 policy.